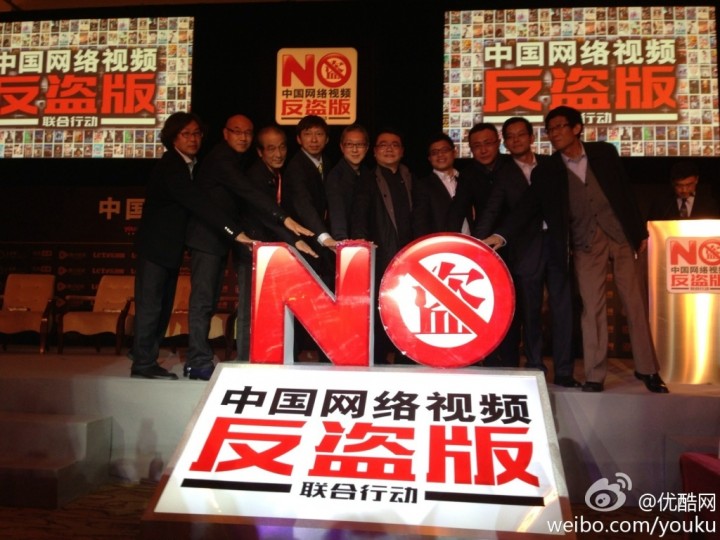 This afternoon, more than a dozen of China's biggest online video providers including Youku (NYSE:YOKU), LeTV (SHE:300104), Sohu (NASDAQ:SOHU), and Tencent (HKG:0700) gathered in Beijing to announce, in the most extravagant way possible, that they plan to sue Baidu (NASDAQ:BIDU) for RMB 300 million ($49 million). International attendees included the Motion Picture Association of America, Sony Pictures Entertainment, Warner Brothers, Disney and Paramount.
The China Online Video Anti-Piracy Alliance (our translation) claims Baidu is the biggest enabler of video piracy in the country via its Baidu Video (百度视频) aggregator, Baidu TV Stick, Baidu Yingyin desktop player, and the Baidu Video mobile app. The press release says:
Baidu is distributing content without authorization while engaging in activities that are beyond the scope of a search engine. Via hotlinks, users are able to access content hosted on third party sites. Such content can be viewed using Baidu video applications while Baidu takes advantage of licensed content, storage and bandwidth of third party video sites.
Their complaints only target Baidu and QVOD, not Baidu's other Hulu-like video sites, PPS and iQiyi. QVOD, made by a company called Kuaipo,  is one of the most popular desktop and mobile applications for downloading and watching video in the country. It has no connection to Baidu.
LeTV COO Liu Hong said, "Since the second half of 2010, LeTV has found evidence of 650 copyright violations by QVOC and evidence of more than 800 infringement violations from Baidu's Yingyin."
In September, Baidu reported its mobile video viewing app surpassed 100 million active users. According to today's release:
They [Baidu] claimed to have aggregated more than 350,000 movies, TV shows and other content for the Baidu Video App. Baidu's copyrighted material is only a tenth of what is available on the app.
Baidu's response
Baidu responded by saying it has taken four major steps towards mitigating piracy with some degree of success:
Research and development into an automatic piracy filtration system.
Open complaint channels where a 24-hour team reviews reports of pirated content and consequently removes it.
Recommending high quality genuine content to steer users away from pirated material.
Baidu's web search will stop linking to pirated video sites.
Since June, Baidu says it has banned more than 5.8 million links to pirated content, of which 1.5 million were reported by another party.
OMFG LOOK AT US WE'RE SUING BAIDU!!!
The announcement was a bit over-the-top. This was no behind-closed-doors attempt at litigation. The plaintiffs called together domestic and international media to listen to keynote speeches at Beijing's Shangri La hotel, similar to what you might expect for an annual company event. One by one, representatives from each party stood behind the podium and gave Baidu a metaphorical middle finger. The event was held under a banner of anti-piracy, but the real goal soon became clear: bash Baidu.
Tencent's Liu Shengyi says the alliance chose this time to attack because they "have been communicating with Baidu for a while to no result. With evidence collected, coordination, etc, it came to today. [sic]"
The $49 million probably wouldn't amount to much when split between all the companies involved, but if they manage to shut down QVOD and Baidu's video streaming services, they stand to substantially gain by converting those users to their own sites.
According to the speakers, 90 percent of pirated content is American movies.
(Editing by Steven Millward)