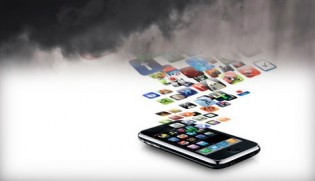 The announcement that China's Ministry of Industry and Information Technology (MIIT) will move to regulate China's app market has left many wondering what effect this will ultimately have on the industry. Yesterday, MIIT made a few clarifications, but they haven't set anyone's mind at ease.
Although the organization still hasn't announced any details, a MIIT spokesman did say yesterday that app stores operating in China (including Apple's app store) would need to go through registration or permitting procedures (it seems the Ministry hasn't yet decided which). Unfortunately, the spokesman didn't mention anything about individual apps or developers, and it isn't clear whether that means individual apps won't have to register anywhere or whether the Ministry just isn't ready to announce anything else yet. An anonymous source within MIIT did tell the Guangzhou Daily that the Ministry does plan to release further explanation soon.
In the meantime, though, Chinese app developers remain worried. One Chinese startup CEO who asked to remain anonymous told Tech in Asia:
The Chinese government never knows what it's doing. This is a very unfavorable policy for startups, first because it adds a barrier of entry for doing a [mobile tech] startup that shouldn't be there, and second because I can't imagine how they can regulate so many apps.
Another Chinese startup employee who also asked to remain anonymous speculated:
As is the case with so many other new regulations in China, both the letter and enforcement of this one are unknown. My prediction is that it'll turn out to be a blacklist that censors apps with pornographic and political content. But almost all app stores in China, including the Apple iTunes Store, already censor out certain apps, so this wouldn't be much different. If it turns out to be a whitelist instead, that'd be a new and far greater imposition upon the mobile app market.
Commenters on news articles about the new policy have not been particularly kind to it either. "This is truly stupid," wrote one Techweb commenter. "MIIT is crap," wrote a commenter on Sina Tech.