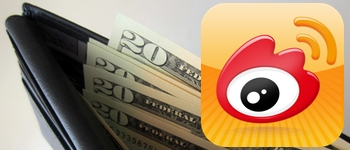 After Wednesday's close of trading on US markets, Weibo (NASDAQ:WB) released its first ever earnings report since its IPO in April. It reveals that the Twitter-esque social network pulled in $67.5 million in revenue in Q1, up 161 percent from the same time a year ago (pre-IPO).
Weibo – which is a spin-off from Sina (NASDAQ:SINA) – says in its Q1 report that it now has 143.8 million monthly active users (MAUs), up 34 percent YoY, and an average of 66.6 million daily active users (DAUs). Those are the same figures it revealed days before its public listing.
Here are additional highlights:
Weibo made a $47.4 million net loss in Q1, which is up 146 percent YoY.

Advertising and marketing revenues grew 176 percent in the past year to $51.9 million. The company cited social display ads as well as ecommerce-related ads from its investor Alibaba as the main reasons for that growth. Alibaba invested in Weibo last year for an 18 percent stake (Update: Alibaba exercised an option to increase the stake to 32 percent prior to the IPO).

Looking over to Sina's Q1 financials, we see that Weibo accounts for 40 percent of Sina's revenue.

Weibo expects Q2 revenue of $74 million to $76 million, but that's below the market consensus of $77.9 million.
See: Weibo takes the fight to WeChat, wants to be your mobile wallet
Weibo first debuted on the markets at a lower than expected $16.27 per share, and closed its first day of trading at $20.24. The company closed yesterday's trading a penny higher at $20.25.
The full Weibo Q1 report is here.