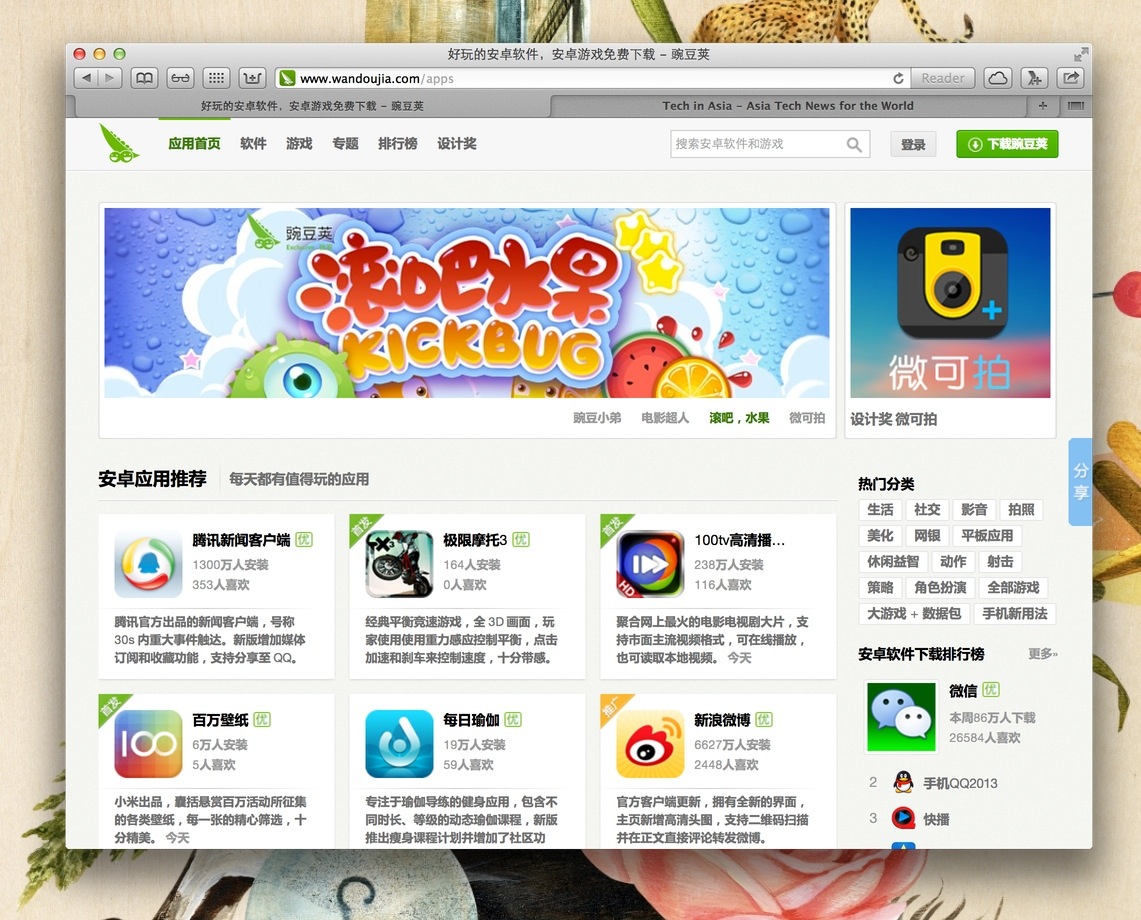 Chinese consumers now have over 250 million active smartphones and tablets, with most of them running Android. Despite that enthusiasm for the flexibility and diverse price-points of Android devices, many in China hate being trapped in Google's ecosystem. That has created a huge industry in China, worth several billion dollars, for alternative Android app stores and other related services. Wandoujia claims to be the biggest of these.
CEO and co-founder Wang Junyu, a 27-year-old former employee of Google, says Wandoujia is now seeing 500,000 new users a day opening up its third-party Android app store, which amounts to about half of all new Android activations in China 1. Junyu says his startup is about more than just downloading freemium apps – he wants to help users discover new content. Plus, Wandoujia partners with app publishers for their China launches (as it did with Flipboard) and also has an Android-to-computer syncing tool, a sort of iTunes for Android, that's available for Windows, Mac, and as a web app.
Chinese app stores are big business
China's app stores are in the spotlight now after Baidu acquired 91 Wireless, a sprawling mobile-related portal and app store, for an immense $1.9 billion last week.
Junyu admits that Wandoujia has had a great deal of interest from China's web giants, but the startup wants to remain independent and not be linked, he says, with a PC-era company. It's perhaps easier to say that now Wandoujia has broken even, which happened earlier this summer. Two years ago, the company raised $8 million in series A funding from DCM and Kaifu Lee's Innovation Works.
(See: 10 Alternative Android App Stores From China)
Growing plans
Remaining indie, Wandoujia has plans to broaden its aggregated content discovery platform to cover more content, such as e-books, music, and video. That's already being worked on. We're told it's a plan to boost user retention, and it will also give more space for its revenue from ads, which is 80 percent of the startup's income right now. Whereas Chinese sites tend to be really abusive with their ads, the Wandoujia team prides itself on clearly marked ads that don't try to trick consumers. "We focus on quality," Junyu says, "and we have strong growth from that practice."
Also at testing phase is a system for purchasing apps, something that Google Play doesn't support in China, and an area that few third-party stores have ventured into. Junyu notes that the freemium model is dominant in China – "The world is catching up to China" in this respect, as more apps go free on both Android and iOS – but the team is nonetheless keen to work on app payments. Its impact could be biggest in terms of in-app purchases. The site will use the usual 70:30 revenue split for developers, and it should be ready for primetime soon.
Sync 'em up
While Google has always insisted that users don't need a desktop syncing app and that all app and content management should be done in the Android phone/tablet, Chinese consumers think very differently. Wandoujia spotted this big hole in the market and long ago created a Windows PC app for this purpose. In July last year, the startup went global under the Snappea name with a trimmed-down version of the Wandoujia PC app. One year later, that now has 200,000 users outside of China.
Snappea later came out with a Mac version. Much more recently there's also a Snappea web app for syncing and backing up your Android device's content.
China's Android boom
China's Android boom is far from over, still with hundreds of millions more people yet to be lured into the smartphone age. This battle among Chinese app stores will also drag on, and will only get more fierce as consolidation takes place. We've yet to see what search giant Baidu will do with its new acquisition.
In the midst of all this, Wandoujia has grown to 30 million monthly active users on its Android store – that's iResearch data, says Junyu; but the company sees 40 million MAUs in its own figures – and has expanded in a year from 40 to 180 Beijing-based staff.
(Editing by Paul Bischoff)
---
Google is now seeing 1.5 million daily activations of new Android devices. But note that many Android phones in China are using unofficial builds of Android and have no Google services built it. So those devices never check in with Google.↩