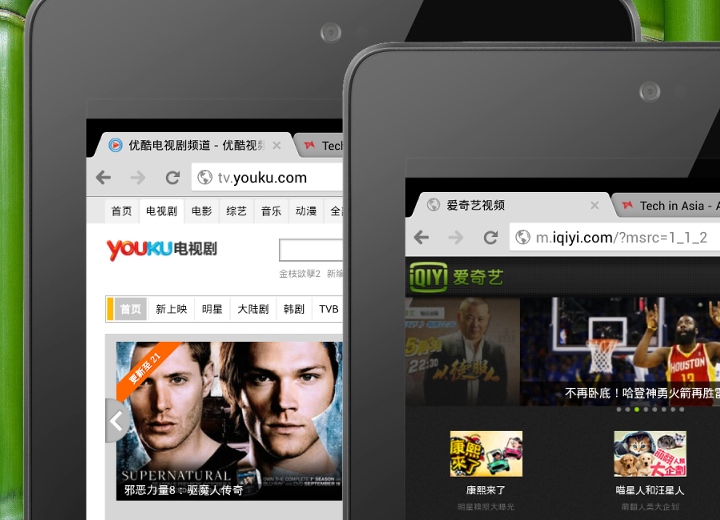 We know that Chinese netizens watch billions of hours worth of online videos each month, but how many of them are doing so from a mobile device? Now we have the answer. China's top two mobile sites (in terms of time spent viewing) have recently revealed their mobile user-base. The leading company, Youku Tudou (NYSE:YOKU) says it has 150 million daily mobile viewers, while Baidu's (NASDAQ:BIDU) iQiyi has 200 million monthly mobile viewers.
Youku Tudou, whose data covers both of its standalone sites after the corporate merger last year, says it sees 50 percent quarter-to-quarter growth in mobile users. iQiyi, meanwhile, explains that mobile traffic now accounts for 37 percent of its total.
With such fast-growing mobile engagement, both companies are rushing to implement mobile-based ads so as to monetize all those views. To that end, iQiyi has a new cross-platform ad service that was launched last week, covering its website and apps for Windows, iOS, and Android. Youku Tudou is also offering mobile ads starting from this month.
Though the figures don't give a perfectly analogous picture – daily views vs monthly, etc. – it stresses that these companies need to translate their desktop advertising prowess to smaller screens without ruining the viewing experience – especially for the big draw, which is their licensed (but mostly free) TV series and movies.
Baidu is rumored to be acquiring another video site, PPS, for a substantial sum so as to bolster its Hulu-like iQiyi site even further.
IDC says that smartphones represent 73.2 percent of all mobiles sold in China right now, but feature phones are still more numerous in the country as a whole. So mobile viewership of video-streaming sites has a lot more growth to come.
(Source: Technode (1) and (2))