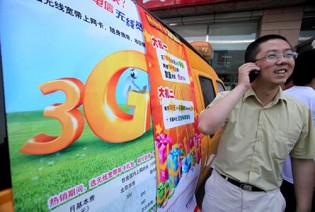 With 4G still showing no signs of becoming commercially available anytime soon in China, 3G continues its rapid growth. Case in point: China Unicom added another 3.2 million 3G subscribers in October, brining its total 3G number up to more than 70 million. Readers may recall that Unicom picked up 3 million new subscribers back in August, too, indicating that this pace is apparently sustainable. (That's good, because Unicom has quite a ways to go before it catches up with China Mobile).
China Unicom's broadband business is growing, too. In October, the company added 677,000 new broadband accounts, brining its total up to more than 63 million.
Mobile 2G growth, unsurprisingly, is much slower. Unicom added just 190,000 new 2G accounts in October, and that number is down by more than a hundred thousand compared to August, which indicates the company's already-slow 2G growth is slowing even further.
Of course, Unicom also offers wired phone services, but interest in that is clearly waning. The company lost 25,000 wired phone subscribers in October.
[Via Sina Tech, Image Source]