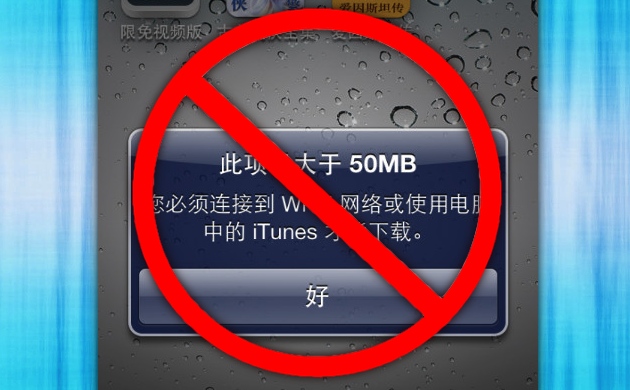 China Unicom (NYSE:CHU; HKG:0762), the country's first partner with Apple for the iPhone, has said that it has negotiated with the Cupertino company to allow users to download and update apps larger that 50MB over its 3G network. In contrast, iPhone users in other parts of the world will have to connect to wifi – or go via the iTunes desktop app – in order to snag larger apps on their iPhones or iPads.
The announcement came from China Unicom via its official customer service Weibo page [1], and it concluded by saying (in my rough translation):
… After getting feedback from Apple, this [50MB limit for 3G] issue is resolved, and our Chinese account holders can now download apps [over 3G] with no file size limit. If you still have a problem, please restart your iPhone and try it again.
Sina Tech then tested this, and was indeed able to install a 103MB game – MetalStorm: Wingman – over China Unicom's 3G network with no warning pop-up or restriction met. But the website also reported that not all users are happy with this development, with some folks saying that it's just a trap to make people go over their monthly data limit and then get hit with surcharges.
Apple (NASDAQ:AAPL) recently lifted its 3G app download limit from 20MB to the current 50, after the high-res screen on the brand-new iPad meant that even some very basic apps would be in excess of 20MB in file size. Indeed, this could prove a problem for China Unicom users. If you have, say, just a 500MB per month data plan, then updating even one small app [2] will take you well over your theoretical daily average data level. Too much of such app downloading and updating, and your data plan could be busted well before the end of the month.
We'll have to wait and see if this back-fires for China Unicom with bad publicity from potential instances of 3G data overuse.
[Source: Sina Tech news – article in Chinese]