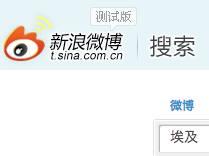 The word 'Egypt' (埃及) was censored today by several micro-blogging sites in China, the AFP reported.
I did a search on Egypt on China's largest microblog site Sina Weibo (in Chinese of course) and got the following in return: "According to relevant laws, regulations and policies, the search results have not been shown."
It was the same on sohu.com. However, the word 'Egypt' on Sina Weibo is still searchable in English. Many Weibo users have changed their Egypt updates to English to remain searchable in the system. #Egypt is also used to inspire others to follow and join in the conversation.
Censorship is widespread in China to prevent any criticism of the government or mention of the issue of human rights.
The web is purged of politically sensitive material and Beijing closely monitors the 450 million Chinese Internet users to avoid organized dissent and prevent them drawing inspiration from abroad.
Despite the government taking extreme measure to monitor and censor the web, a research by Edelman highlighted that 88 percent of Chinese trust the government. The figure was up by 14 percent from a 74 percent last year.