We've written a bit lately about how China's major telecoms are upset with WeChat and other OTT services that they see as using their networks to steal customers away from traditional moneymaking services like text messaging. It even looks like China Unicom may be toying with charging customers separately for WeChat. But China Telecom is rumored to be taking a more direct approach by launching its own mobile messaging app it hopes will compete with WeChat.
The new app, which will be called Yixin, will reportedly be based on China Telecom's existing chat app Yiliao. The name "Yixin" is itself a little reminiscent of WeChat, borrowing as it does the "xin" from WeChat's Chinese name Weixin. Sina Tech claims that according to industry insiders and insiders at China Telecom, the company will have a partner in developing and releasing this new app: Netease. Supposedly, China Telecom board chair Wang Xiaochu and Netease CEO Ding Lei have already met in secret to work out a partnership agreement that would see the two companies collaborating on Yixin in the hopes of dethroning Tencent's mobile messaging giant.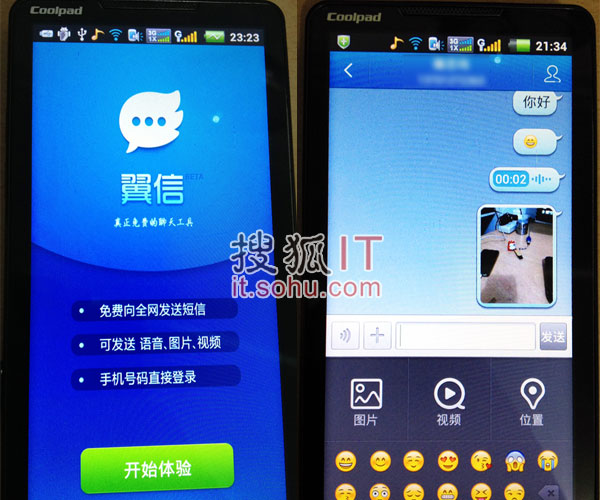 Neither company has yet confirmed the partnership (and a China Telecom spokesman has already denied it), but a Sohu IT report picked up by Chinese state wire service Xinhua features an image of the rumored app in action (pictured above) and provides more detail on the nature of the partnership. According to the article, Netease will help China Telecom add features to and upgrade Yiliao while at the same time integrating its own user account authentication process with the app so that Netease users can log in easily. If the image above is real, it seems that much like other chat apps, Yixin will allow users to share recorded audio, photos, videos, locations, and emoticons with each other in the chat window.
If the rumors do prove true, Netease and China Telecom will certainly have their work cut out for them. WeChat already has more than 300 million users, and most of them are in China. Coming from so far behind, Telecom and Netease are going to have to offer users a very compelling reason to pick Yixin over WeChat, and based on the screenshots above, I just don't see it. Don't get me wrong; Yixin looks like a perfectly competent mobile messaging app, but WeChat has the brand, the user numbers, the momentum, and a few cool extras like its business card exchange feature. To enter the game at this stage, China Telecom and Netease would need something pretty revolutionary to take the wind out of WeChat's sails. I don't see anything like that in the screenshot above, and neither company has anything approaching the pedigree of Tencent when it comes to chat applications.
Of course, the partnership is still just a rumor, although there seems to be plenty of testimony and even a little photographic evidence that it is real. Since China Telecom has denied the rumor, it seems likely that any product launch is still quite a long time away, if it ever happens at all. A lot could change between whenever the screenshot above was taken and whenever Yixin actually sees the light of day. Perhaps China Telecom and Netease will be able to pull a rabbit out of their hat, but with WeChat at 300 million users and growing fast, it's going to have to be a pretty damn big rabbit if they hope to stand a chance.