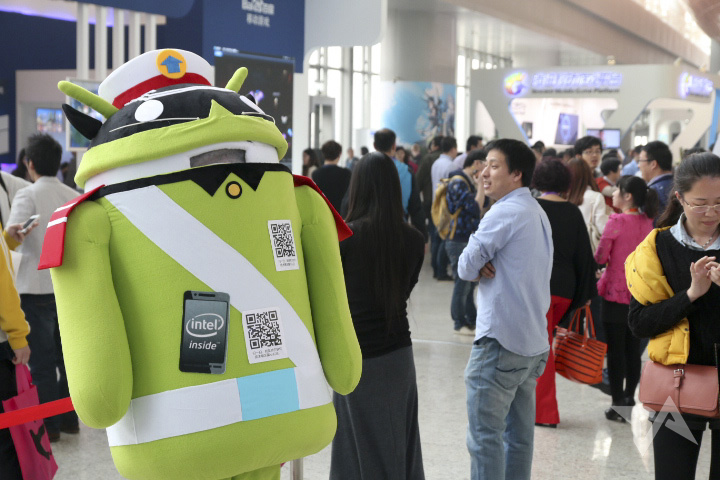 A new report released today by mobile advertising network AppFlood says Asia accounted for 27 percent of all the Android apps installed around the world last quarter. Advertisers are clearly catching on to the trend, as AppFlood also reports that three-fifths of money spent on ads around the globe comes from China, most of it aimed at the Asian market.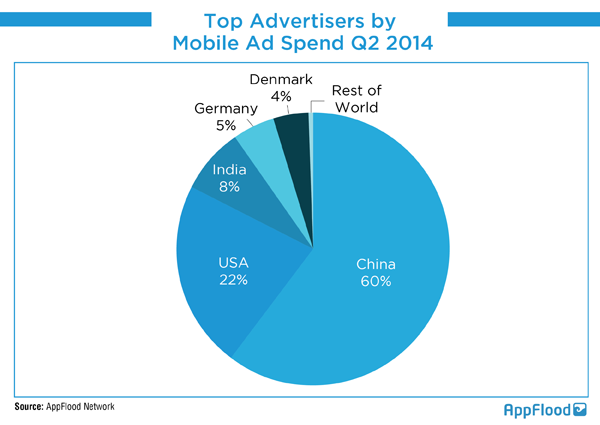 "Our data finds that China and emerging regions are influencing the global app economy with nearly half of all global installs coming from Asia and the Middle East," said Si Shen, co-founder and CEO of PapayaMobile, AppFlood's parent company.
See: China's high-end phone users more likely to crack wi-fi passwords, cheat on mobile games: report
AppFlood says China's average mobile ad spend grew 123 percent quarter-on-quarter, which far outpaced the slowing growth of the USA at 66 percent.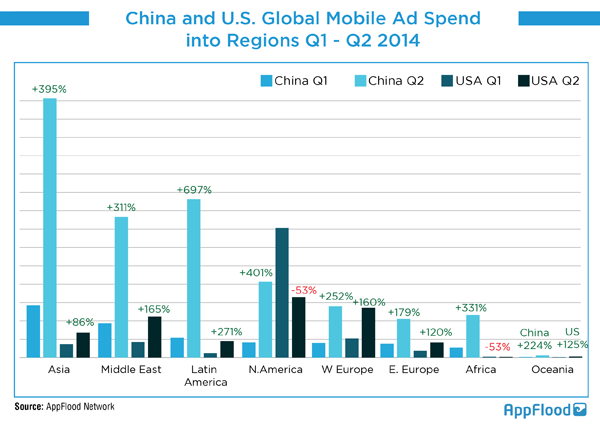 "Advertisers in China spent more than those in developed regions and invested their ad spend in emerging regions," Shen says.
The bulk of that money is going toward advertising on productivity apps, which received more ad spend than the next four categories combined.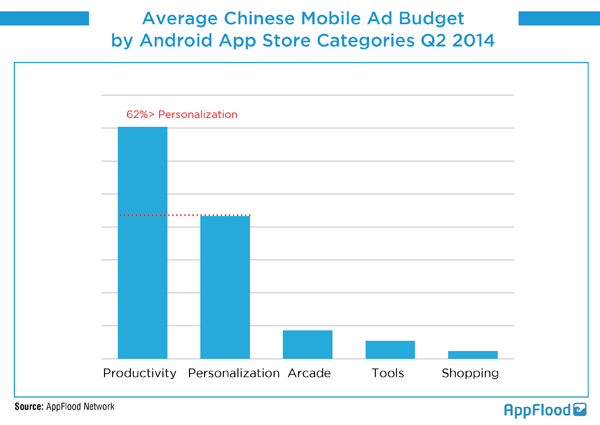 China is part of a larger trend in Asia – the report found that about 53 percent of mobile traffic and 47 percent of installs came from Asia and the Middle East. 29 percent of all mobile ad budgets target Asia.
The report also gave us a snapshot of the apps and app stores being used in China. Qihoo's 360 Mobile Assistant led the market for the highest percentage of mobile users who have the app store downloaded. Google Play ranked a surprisingly high fourth place, beating out Xiaomi's app store and Wandoujia.
Tencent was the second-highest ranked app store and took all three podium spots for the apps with the most monthly active users: WeChat, QQ messenger, and Sougou Mobile Input.
You can see AppFlood's full report and even more app rankings provided by TalkingData in the slideshow below.
AppFlood's mobile ad network serves more than 145 million active users, 10,000 developers, and 100,000 daily installs.