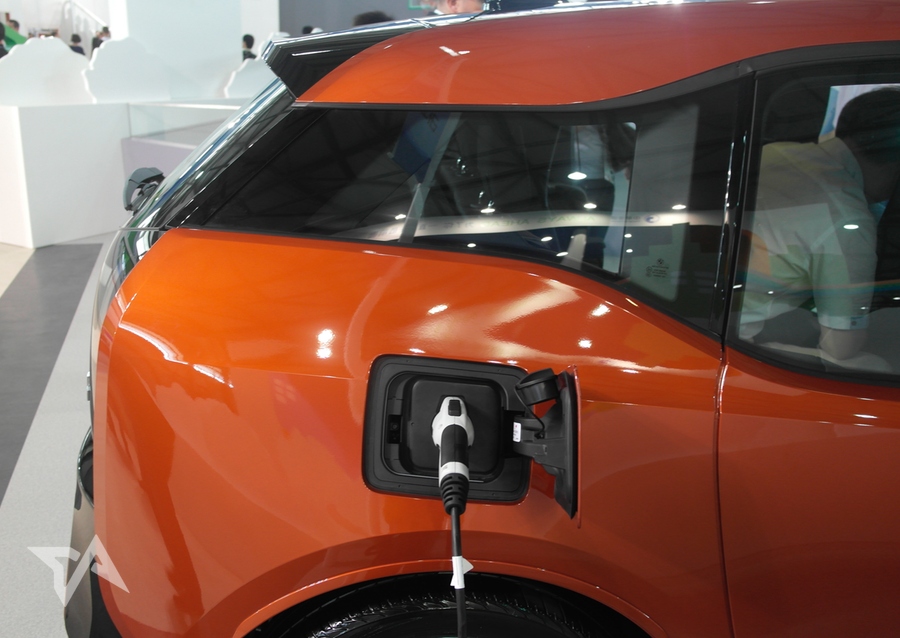 China sold only 6,900 domestic-brand electric cars in 2013, according to a new report on China's EV production and sales. That's in contrast to China's total car sales for 2013 of 22 million, surpassing 15.6 million in the US.
Little demand for EVs means the nation is far off the target, set in 2012, to sell 500,000 electric cars in 2015 and five million in 2020.
The new report comes from Charlie Paglee, the CEO of Brannan Auto and a former China VP for Fisker. The figures count only conventional, highway-speed passenger vehicles and exclude China's booming industry for electric buses. He adds that China also saw sales of 1,247 plug-in hybrid cars in 2013.
Whereas overseas auto-makers (with their Chinese joint-venture brands) dominate gasoline car sales in China, the nation's homegrown car companies monopolize electric car sales at this early stage. Even adding in passenger EVs from overseas firms won't boost the figure that much. Aside from the pricey Tesla, no foreign car company is selling an EV in China right now. Nissan plans to sell the Chinese version of its all-electric Leaf, which will be called the Donfeng-Nissan Venucia e30, in September.
The top selling passenger EV in China last year is the BAIC E150 (pictured below), according to the Paglee report. The Ford Fiesta-sized car starts at a shocking RMB 195,000 (US$31,700) for the electric model, as opposed to just RMB 58,000 (US$9,430) for the identically-bodied gasoline model with a 1.3-liter engine. It has a 200-kilometer range.
Even Warren Buffet-backed BYD is struggling. The auto-maker, known for its battery tech, aims to triple sales of EVs to 8,000 units this year, including 2,000 buses. But most of its electric cars will be sold to taxi fleets.
See: With new partnership, Tesla set to build 40 Supercharger stations across China
A few incentives to jump over a great many hurdles
2014's EV sales in China could get a much-needed buzz from cash incentives put in place in September 2013. That's when China's Ministry of Industry and Information Technology (MIIT) introduced hefty government subsidies to buyers of all-electric or plug-in hybrid cars. The largest subsidy option, of RMB 60,000 (US$9,450), is available to buyers of all-electric cars with a range of over 250 kilometers; the smallest is RMB 35,000 (US$5,690) for plug-in hybrid vehicles that go for over 50 kilometers. Those are available only to buyers of domestic-brand cars.
But fundamental problems remain.
One is that China's urban middle class prefer foreign automakers. The top-selling three models in China last year were the locally-manufactured versions of the Ford Focus, VW Lavida, and Buick Excelle, in that order. Another is that most urban residents in China live in gated apartment communities, meaning people have no personal garage in which to charge an EV.
Homeowners in Shanghai can apply for installation of private charging facilities, but they must actually own a parking space inside their compound – which not all property owners do, owing to the lower costs of renting a parking space or finding a street-side spot for free. The Shanghai Daily reported earlier this year that Shanghai Power Company has received 140 applications for home-based charging ports, but has so far given the go-ahead for just 30 of them. These charging stations can cost as much as RMB 50,000 (US$8,000), which eradicates much of the savings people make from the EV subsidy. A further barrier is that not all real estate companies are open to such modifications being made to parking spots. And many older compounds, built in the 1980s or 1990s when few people in China had cars, simply don't have the space.
Consumers, perhaps feeling confused about or unconvinced by electric vehicles, are not finding the subsidies and sweeteners appealing enough. It doesn't help that there are so many hurdles to jump through and that the incentives are so fragmented.
New incentives and directives keep popping up. Yesterday, Beijing municipal authorities published a '2014 to 2017 action plan' for electric vehicles, according to Tencent Tech (article in Chinese). The initiative centers around building 10,000 charging facilities across the capital by 2017. The first batch of 1,000 will be positioned within a five-kilometer radius of the city center, focused on major transport hubs. But what of the nation's other cities?
Once a city has a charging infrastructure that's even larger than its network of gasoline fueling stations, that might alleviate the issue of a lack of home charging facilities. But many hurdles to EV ownership remain.
China's car sales rose 14 percent from 2012 to 2013 and look set to rise 10 percent from 2013 to the end of this year – and remarkably few of those will be electric.