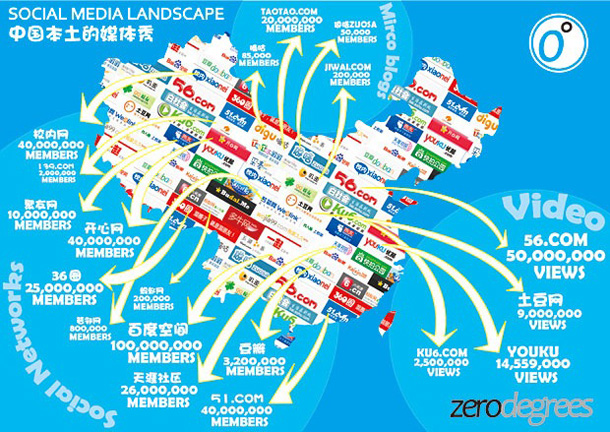 In China, Renren and Sina Weibo are dominant players in the social network market. They can be seen as the "Facebook" and "Twitter" of China as each network currently has 160 million and 50 million registered users, respectively.
More to comes as eMarketer forecast that China will have 265 million social network users by the end of this year. The total number social network users is also estimated to hit 488 million by 2015. A user is counted as one who uses social network service at least once a month.
"As penetration approaches saturation, users are adopting activities that mirror the West but remain distinctly Chinese," said Mike Froggatt, eMarketer research analyst and author of the new report "China Social Media Marketing." "They have innovated in categories as diverse as online entertainment, group buying and social media."
"Although social networks in China will increase reach, sites often have very specific audiences," said Froggatt. "Choosing how and where to target these audiences can determine whether social media campaigns are successful or flop."
With the ongoing fight for dominance, China's social network market look fragmented now. But it could be worst by 2015, at least in my opinion. Four years from now, it remains to be seen if Renren and Sina Weibo are still the dominant players. Chinese users are adopting English-based social networks like Facebook and Twitter as they feel the need to stay connected with the world.
That means U.S based sites could still stand a chance to gain pieces of the Chinese market. If both companies successfully entered China, it would cause further fragmentation as users are spread among different social networks. Marketers would then have to understand and manage dozens of social networks to better target consumers. Of course, there is also a possibility that that more social network services would spring up in the near future. It's a huge but complicated market, isn't it?
Also catch: The Twitter War in China