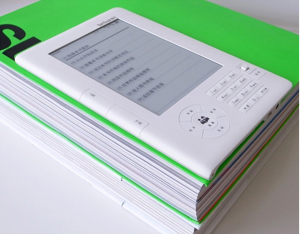 Shanda Cloudary, the e-book, e-reader, and publishing division of Chinese web giant Shanda (formerly NASDAQ:SNDA), has raised $110 million in funds from Goldman Sachs and Singapore investment company, Temasek.
Shanda Cloudary, which makes the Kindle-esque Bambook e-reader device (pictured) that connects to its own e-bookstore, will use the $110 million to "further enhance its incentive scheme for writers, secure commercially valuable literary content, develop and market its mobile Internet products and applications," and possible "strategic investments and acquisitions" for expansion of its content offerings.
This subsidiary of Shanda was supposed to be heading for a US IPO in the summer of 2011, but that was cancelled amid a gloomy economic outlook and growing distrust of the veracity of Chinese stocks. The company had been aiming to raise $200 million in financing with that IPO plan.
(See: Forget the iWatch, China's Shanda is Launching its Own Smart Watch Running Firefox OS)
It's not clear if an IPO is off the cards for a while now that Cloudary has some extra funds to sustain it.
Bloomberg speculated earlier this week that Temasek and Goldman Sachs (which was instrumental in causing the global financial meltdown in 2008) would indeed take a minority stake in Cloudary, and that the investment effectively values the division at about $600 million, less than the $800 million it was valued at in May 2012 when equity funds managed by Orbis bought a 1.875 percent stake for $15 million.
(Editing by Enricko Lukman)