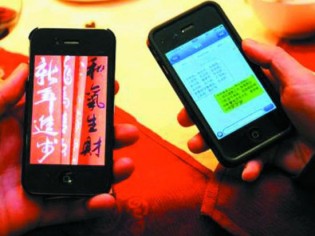 We already saw that Sina Weibo had a bang-up morning this past holiday weekend, with over 34,000 posts in a single second commemorating the new Year of the Snake. But in recent years, Chinese people sent most of their new year's greetings via text message, and this year has been no exception. According to estimates from China's three major telecoms, Chinese people sent a whopping 1.16 billion new year's greetings texts this holiday. But that doesn't tell the whole story.
While the total number of texts is up slightly from last year's 1.1. billion, the per-capita new year's text rate has actually dropped because China has picked up millions of new mobile users over the past year. In Beijing, for example, people sent an average of 36 texts this holiday, down from 42 last year. The culprit? Newer media like Weibo and WeChat. WeChat was especially popular this year because it allows for the sending of voice greetings, which feels more intimate and personal than a simple text message.
Obviously texting isn't about to die out, but we have already looked at how Chinese people aren't sending as many texts as they used to, and as apps like WeChat become more popular that trend is likely to accelerate.
(Beijing Morning Post via Sina Tech, image source)