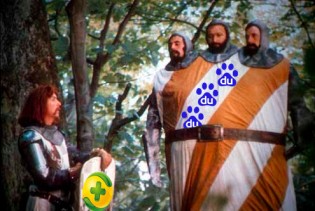 Top Chinese internet companies Baidu and Qihoo 360 have been beating the hell out of each other since Qihoo launched a search service last summer. Following the back-and-forth is fun, of course, but the service has been along for long enough now that it's worth asking whether 360 Search has made much headway after its initial land grab (it had snatched up around 10 percent of China's search market shortly following its launch).
The answer, it turns out, isn't all that clear. As you can see in the graph from CNZZ below (we've translated it), Qihoo has gained a little bit of ground since last October. CNZZ has Qihoo with 14.87 percent of the search market, which certainly isn't bad.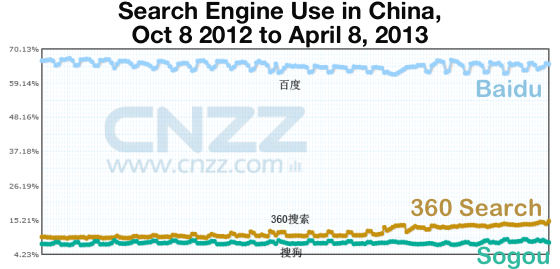 Of course, not everyone agrees with those numbers. Hitwise's latest data (which comes from March) has Qihoo's market share at only 11.97 percent, and while that still represents growth, Baidu's market share is also up and at 78.55 percent according to Hitwise. And Guosen researcher Qiu Lin told Sina Tech that their data shows Qihoo having started with around a 10 percent share, then dropping to 8 percent before slowly climbing to its present position at around 12 percent of the market. No matter whose data you're looking at, though, the message seems pretty clear. Qihoo is growing slowly, but Baidu may be too, and either way Baidu continues to serve the vast majority of China's search traffic.
Interestingly though, the proportion of Baidu users to 360 Search users can vary a bit depending on what sort of thing users are searching for. Baidu users are always a strong majority of course, but even so, check out the variation in this CNZZ chart of what search engine incoming users used to access some of China's most popular websites: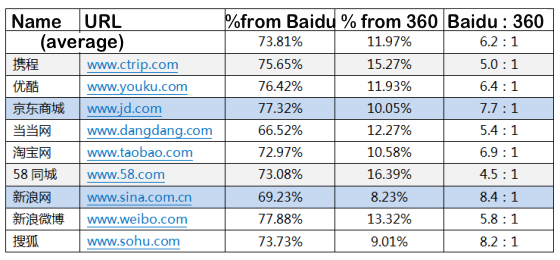 Qihoo's stated goal for its search engine is to reach 40 percent of the market share in 2015, which seems perhaps overly optimistic given the slow growth it has seen over the past six months. Even so, 12 to 15 percent of such a huge market is nothing to sneeze at, and JG Capital reportedly estimates that search could bring in as much as $95 million for the company by the end of this year. And Qiu Lin says his most optimistic estimate for the company's yearly search revenue for this year is more like $300 million.
Thankfully, since Qihoo is a publicly-traded company (NYSE:QIHU), at some point next year we'll get to see the real, official numbers instead of just speculation. But there's likely to be an awful lot of war to be waged between Baidu and Qihoo between now and then, and of course that's not even mentioning the question of mobile search, which is a much more open market given that many of Chinese mobile users aren't on smartphones yet and thus haven't formed their mobile search habits.
(via Sina Tech)