The newest web browser stats from CNZZ show a surprising development: Apple's Safari web browser – which is preinstalled on all its Macs and is also available for Windows – has a greater desktop browsing market share than either Chrome or Firefox in China. It makes Safari into China's fourth most popular web browser with 2.79 percent of all observed usage on the web.
In contrast, in the latest CNZZ stats for August 2012, Chrome is sixth with 2.41 percent share, while Firefox languishes in eighth with a mere 1.42 percent. Indeed, despite all the campus outreach in China that Mozilla, makers of Firefox, has told us about, Firefox has lost market share in the country in the past year (see stats below).
Safari's progress shows that Chinese consumers might be using their beloved, shiny Macbooks in OS X, rather than sticking a pirated copy of Windows XP on Parallels – as so many people do. Or – gasp! – some folks are actually using Safari for Windows. Here's August 2012 contrasted with the same point last year: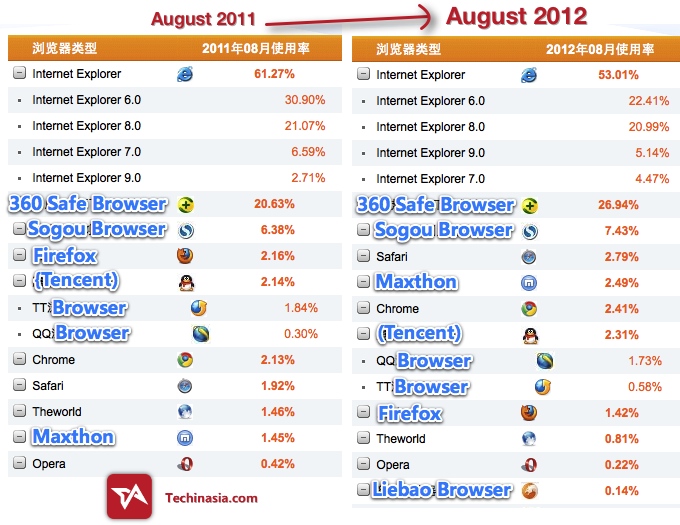 Of course, China still loves Internet Explorer (IE). And yes, that's IE6, the decades-old virus-magnet, that's the most popular version. It seems Microsoft's decision to push browser auto-updates can't kill it off. China still has epidemic-level usage of IE6. Even Microsoft wants rid of it, as infected PCs can become malware botnets. Microsoft's own 'death to IE6' website (not the official name) says that China has 21.3 percent of all the world's users of the old browser. That's still way too high, as all other nation's have updated and moved on.
(See also: 5 Features in Mac OS X 10.8 That Apple Has Added for Chinese Users)
As for the other rivals, the anti-virus vendor Qihoo (NYSE:QIHU), which recently burst into the search engine market in China, is in a very strong second place. Its web browser is a key part of its traffic-channeling strategy, and its 360 Safe Browser now uses the company's own 360 Search by default. That's gotta be a painful switcheroo for Baidu and Google. The only other desktop browser ahead of Safari is Sogou (run by Sohu (NASDAQ:SOHU)), which has a search engine of its own as well.