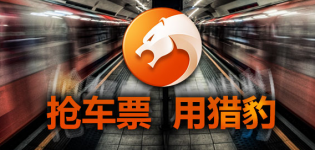 As we approach the Spring Festival heavy travel season, China's 12306 train ticket e-commerce site seems to be handling the load a bit better than last year. Over the year, numerous independent companies have produced third-party solutions that attempt to make using the Railway Ministry's official site more convenient and user-friendly, but now the Railway Ministry is asking web browser providers like Kingsoft to shut down their ticket-buying assistance plugins.
The straw that broke the camel's back appears to be an incident a couple days ago, in which traffic from a very buggy 12306 plugin managed to crash Github, but the Railway Ministry has said that all of these plugins increase the load on the 12306 servers. Kingsoft, which just launched a special ticket-buying version of its browser a week ago, now confirms that it's in negotiations with the Ministry, but has not said whether or not they plan to take the browser offline.
A number of other Chinese web browsers also have ticket-purchase features or plugins, including the 360 browser and Sougou's browser. It's not yet clear whether the Railway Ministry will also ask them to shut these services down, nor is it clear how the Ministry plans to handle the plugins available for internationally-based browsers like Firefox.
Although I can understand the desire to limit the load placed on its servers, it seems like the Railway Ministry is trying to cure the symptoms instead of the disease here. If the Ministry's own site was simple and easy-to-use, third-party helper software wouldn't be springing up right and left and downloaded like hotcakes.
(via Sina Tech)