Chinese software maker Qihoo (NYSE:QIHU) exploded into the search engine market in the summer of 2012, and managed to garner 10 percent market share in China in just a couple of week thanks to its popular PC web browser. At the end of 2013, Qihoo had clawed its way up to 22.5 percent share. Of course, it doesn't intend to stop there.
Qihoo president Qi Xiangdong said last week, according to the Chengdu Evening News (via Marbridge Daily), that the company is aiming to reach 35 percent market share by the end of 2014.
Qi says that Qihoo now has 24 percent share, though the CNZZ data that we prefer to look at pegs the company's So.com search engine at precisely 22.5 percent.
It's not clear what strategies Qihoo has for that , but it's a threat to market leader Baidu (NASDAQ:BIDU), whose own share of the pie has crumbled away as Qihoo's has expanded.
A few weeks ago we analyzed how search engines have shifted in China in 2013, and our graph shows clearly that Qihoo could indeed hit 35 percent if it grows as quickly this year as it did last year: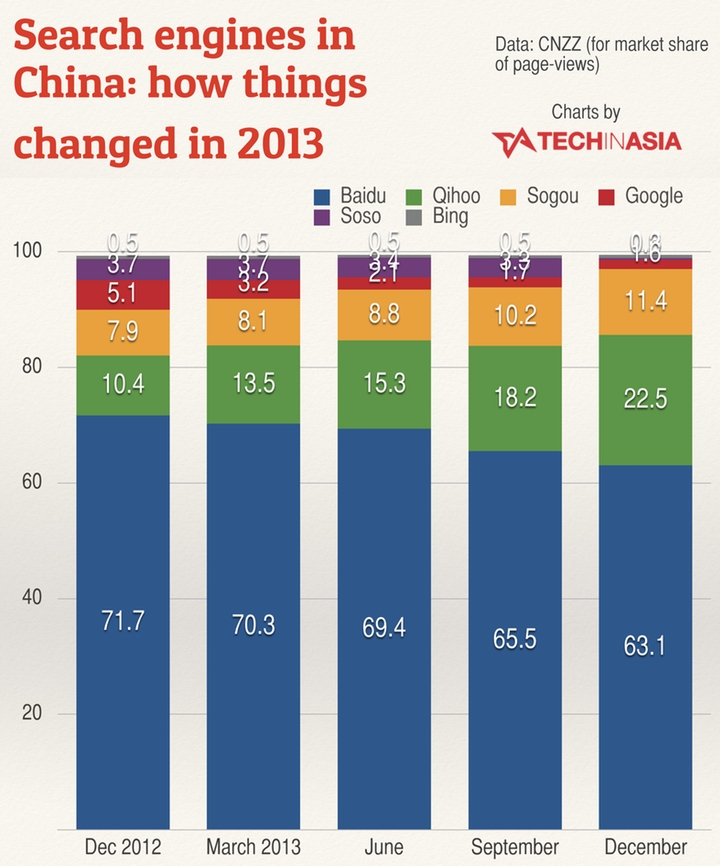 (Editing by Josh Horwitz)