When we last looked at search engine market share in China, the bruiser of a newcomer, Qihoo's (NYSE:QIHU) So.com search service, was slowly making inroads on its major rival. But new data from the same stats source suggests that Qihoo has leaped up two percent from December 2012 to February 2013 – going from 10.39 to 12.36 percent.
Perhaps not entirely coincidentally, market leader Baidu (NASDAQ:BIDU) dropped by nearly the same amount in that period of time. Elsewhere in the new traffic pageviews numbers from CNZZ, Google continues its slide down while most of the other rivals are fairly stagnant.
To get a sense of the big impact of Qihoo's search engine since it launched last August, let's compare the new February numbers with ones from October last year: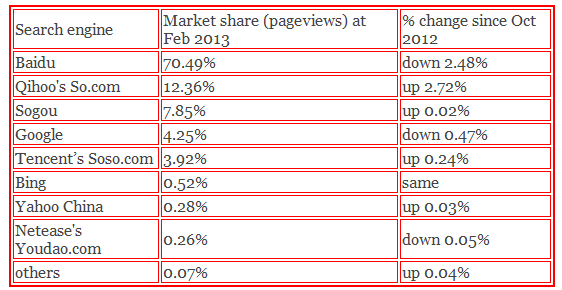 Over that whole time, Baidu has gone down by almost the same as Qihoo has gone up. And don't forgot that a chunk of Qihoo's initial share upon arrival on the scene also came from Baidu.
Though Qihoo is currently facing serious charges over abuses of user privacy on its software apps – including the web browser that feeds so much traffic to its fledgling search service – the company posted a strong Q4 financial report earlier this week that caused its share price to hit an all-time high.
(Source: CNZZ data, via Marbridge Daily)