We know that mobile commerce in China was worth $7.8 billion in 2012 – and is expected to rise to $41.4 billion in 2015 – but who are the biggest e-commerce brands among the nation's mobile shoppers? New statistics from iResearch give us that answer and show that one company seriously dominates.
The clear market leader for mobile-based shopping in China is Taobao, the iconic consumer-to-consumer shopping mall from Alibaba that's been rocking China for a decade. In terms of the value of mobile purchases among Chinese consumers, Taobao leads with 75.1 percent market share. Some of that is from the parent company's B2C marketplace Tmall.
In second place in this sector is Jingdong (formally called 360Buy), which is also China's second largest B2C e-tailer. Its share of the mobile sector is a lot lower than its share of the overall China B2C shopping market, suggesting that Jingdong – and, indeed, all other such Amazon-like brands – needs to seriously sharpen up its mobile strategy. I notice that, if we again compare mobile spending share with overall market share, it's only two fashion e-commerce companies that are punching above their weight when it comes to mobile shoppers – own-brand clothing e-store Vancl and specialist handbag site Maibaobao.
Here's the market share pie chart: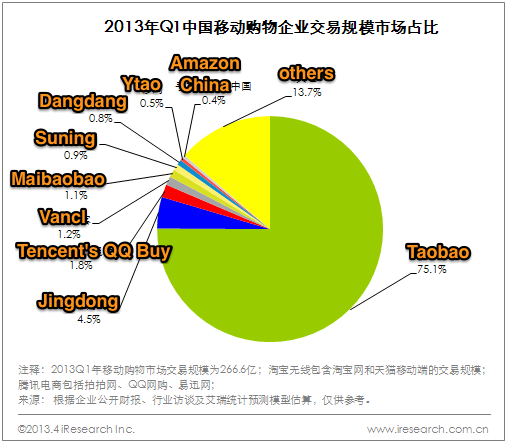 A fairly slow shift to m-commerce
iResearch estimates that Q1 2013 will see Chinese mobile netizens spending a total of RMB 26.6 billion ($4.29 billion) in all of these e-commerce companies. That indicates that 2013 will indeed be the biggest ever year for mobile commerce in China – possibly exceeding the research firm's earlier estimates of $15.7 billion for the entire year: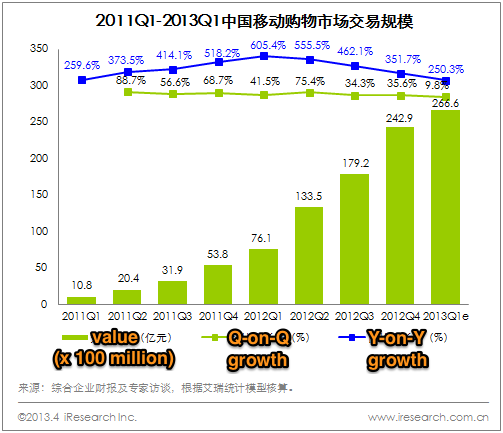 In Q1 2013, we see that PC-based shopping still dominates the country's e-commerce sector , but mobile is rising fast, anticipated to reach 7.6 percent of purchases in the first quarter: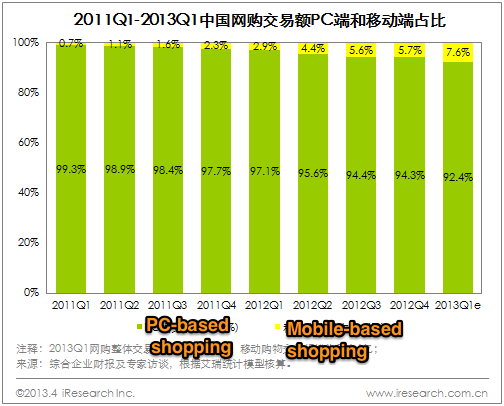 If you can handle any more massive numbers you might like to know that China's entire e-commerce industry looks set to be worth $177 billion in 2013. Keep an eye on our 'e-commerce in China' tag to get more news on this massive market.
(Source: iResearch)