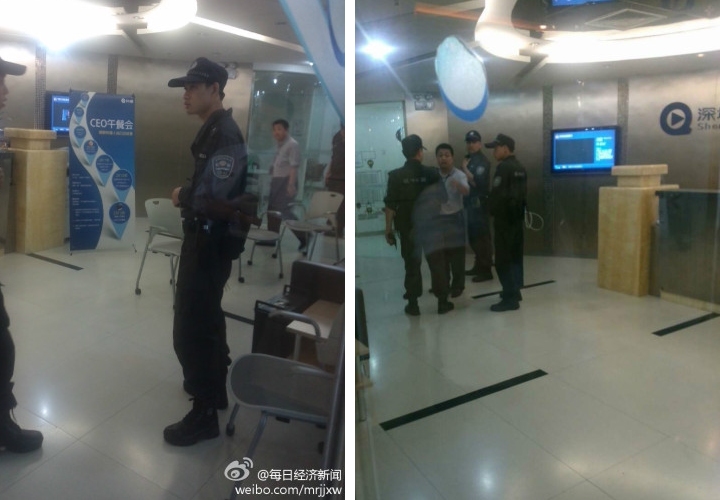 (Update on May 15: State news agency Xinhua reports that this company "has been found guilty of spreading lewd and pornographic content," resulting in its important media license being revoked. There's no word on individuals being charged after the police raid in April.)
Police in the southern Chinese city of Shenzhen performed a raid this morning on the offices of one of China's most notorious video piracy apps. The raid on Kuaibo, makers of the QVOD app for streaming films and TV shows, comes less than a week after the company promised to remove pirated content – which can be streamed or downloaded – from QVOD.
Kuaibo last week vowed to purchase the streaming rights to licensed content and to block users of the app from watching or downloading pirated videos. The QVOD site is still operating.
A notice from the Kuaibo/QVOD team was posted to Sina Weibo hours after the raid. While acknowledging that it happened, the notice claims it's untrue that police took away computers and servers as evidence. No arrests took place.
Late last year, QVOD (pictured below) and a mobile app made by search engine Baidu were the targets of a $50 million legal challenge by legitimate video streaming sites in China.
(See: How China's top video site battles the pirates)
Clampdown on film and video piracy in China
It's not clear how many police officers were involved in the raid, but numerous photos from outside the scene that were posted to social media showed two large police buses parked outside of Kuaibo's office building.
The raid might be a show of force ahead of World Intellectual Property Day, which is on April 26. On that day last year, police made arrests at two piracy-plagued websites and shut both of them down. However, one of those – YYeTs – is now back online.
China's legal system has been tightening up its stance on movie and TV show piracy in recent years. At the same time, the nation's top major video sites – such as Youku (NYSE:YOKU), Baidu's (NASDAQ:BIDU) PPS and iQiyi, Tencent's (HKG:0700) video portal, LeTV, and Sohu's (NASDAQ:SOHU) video site – have been spending big to buy the rights to show top TV serials and films from China, South Korea, the US, UK, and beyond.
Those video sites have acquired the rights to drama series such as House of Cards, Sherlock, and Korea's You Who Came From the Stars. The latest hot shows are viewed tens of millions of times in China, where they're shown less than 24 hours after their original broadcast. In theory, there's less need to pirate TV shows in China than in most other countries as it's actually surprisingly easy to watch popular shows for free.
Up against so many big-name and big-money companies, Kuaibo hasn't specified how it can afford to buy the licenses to stream popular TV shows or movies. Other Chinese sites that initially grew largely out of piracy have managed to reform and readjust to life as a legal business. One example is Xunlei, which received $310 million in funding earlier this month to grow its legit streaming media business. Xunlei started out based around its Napster-style peer-to-peer file-sharing service.
(Images of raid: National Business Daily on Weibo)