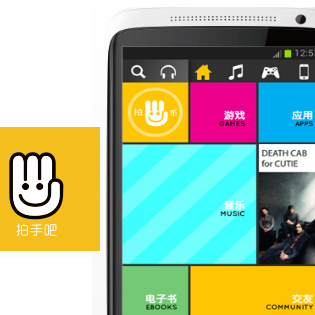 Despite the abundance of third-party app stores in China, we know that content creators and developers in China are not getting paid. What with rampant piracy and the 'freemium' method being hard to monetize, it can be a huge challenge to sell to this otherwise connected and gadget-loving nation. The Berlin and Beijing-based startup 88tc88 is hoping to change that with its own multimedia app store, called Paishouba, that sells totally legal apps, mobile games, e-books, and music.
Paishouba (pictured; the name means "Let's clap" in Chinese) is like the iTunes App Store or Google Play store in that it offers up a variety of free and paid content, and is now available in versions for iPhone and Android plus a HTML5 web app. It takes payments via Alipay, China's biggest standalone e-payments platform, so that coughing up for content should be easy.
While Apple's iTunes supports paid apps in China, it doesn't offer anything else for sale locally; Google Play has no paid content at all in the country. As for all the third-party Android app stores in China, they tend to focus on freemium apps and games – with a smattering of pirated stuff – so there's little pushing consumers to pay for stuff on their pricey smartphones.
Paishouba aims to be a social space as well, with a social networking element. Its content is brought into the store in cooperation with Western labels and publishers. While that's nice, it leaves the store feeling limited in its music offerings (I couldn't see the e-books section, which failed to load repeatedly).
With this being aimed at Chinese consumers, there's a strange mix of new and dated western rock and pop music; for a young-looking app, Bob Dylan is surely an ill-fitting musical choice. Now that Chinese consumers have lots of legal music options – on sites like Baidu Music, which is free (for now) but ad-supported – perhaps it'd be better for Paishouba to focus on paid apps and games, which is where the biggest void exists in China.
88tc88's Tonia Ellis tells us that the China side of the team is split between 10 people in Beijing, and a dozen in the city of Suzhou, just outside of Shanghai. Thanks to its content partnerships, Paishouba is hoping to attract one million users by the end of the year with roughly five percent paying members.
Paishouba is the right idea, if not – in the app's current form – the right implementation. Surely China's web and smartphone userbase is at the kind of size and level of maturity that it's ready for a paid web store that ensures quality and safety. With big players like Google being hampered by regulations, and Chinese web companies always taking the path of least resistance, it's likely that a startup will be the one to nail this niche sector first.