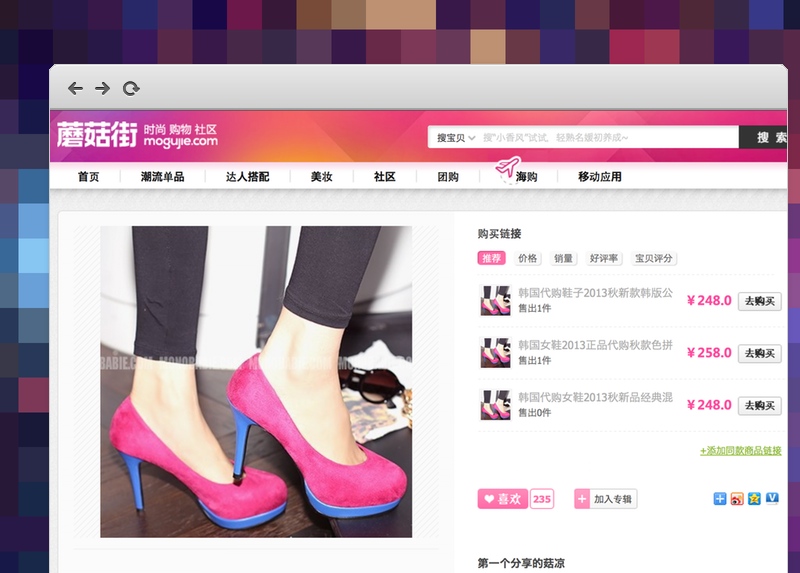 Mogujie, China's money-spinning Pinterest clone, is venturing even further into e-commerce these days. The site has launched an open platform for e-sellers, aiming to make it easier to have a fully-fledged store on the site.
The social pinboard site is hoping to lure merchants in from Alibaba's iconic Taobao marketplace. The new Mogujie open platform supports both consumer-to-consumer and brand-based stores, just like Taobao.
Mogujie's new API for these stores supports some neat features, such as the ability to sync a whole Mogujie store with a merchant's Taobao shop.
The idea is that more quality merchandise on Mogujie will mean even more revenue from referral clicks to Taobao, which is how the social pinboard site has monetized since its inception a few years ago. It was already pulling in over RMB 100,000 ($15,900) per day in ad referral clicks last summer.
Yes, this isn't a standalone e-commerce business for Mogujie, but it's a clever, store-like expansion of its already heavily shopping-oriented social site.
Mogujie got series C funding last October that effectively valued the site at $200 million. There are plenty of other Pinteresting sites in China, but Mogujie – along with rival Meilishuo – seems to be staying ahead of the pack.
(Editing by Willis Wee)