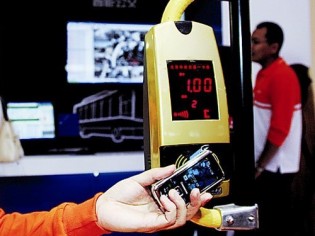 Taking the bus in China isn't that difficult if you have a transit card you can swipe to pay your fare. But soon, even the transit card may be unnecessary. The Beijing News reported yesterday that China Mobile has partnered with a number of banks (eight so far) and with China UnionPay to create a mobile payment system, and the first part of that system is coming very soon.
Right now, Beijing China Mobile customers who'd like to can visit any of six designated China Mobile shops to switch their SIM cards out for new ones that will allow them to connect their phones to their bank accounts. Soon, Beijing's public transportation system will let them swipe those phones to pay for bus fares around the city. No transit cards required.
But of course, that's just the tip of the iceberg; China Mobile and the banks have big plans for the virtual wallets (which use NFC technology) and are already working with NFC-enabled handsets like Samsung's Galaxy S4, the HTC One, and some Huawei and ZTE models to integrate the system. By September, China Mobile says there will be twenty handset models that fully support the virtual wallet system.
In Beijing, a few upscale spots like Starbucks and Häagen-Dazs already support mobile payment, but as China Mobile's system proliferates — assuming it catches on with users, which it might not — expect that number to jump up quite a bit. Has the era of waving your phone at everything dawned in China? We'll have to wait and see.
(Incidentally, between this and its next-gen 4G network potentially coming online, this is looking to be an impressive second half of the year for China Mobile!)
(Beijing News via TechWeb)