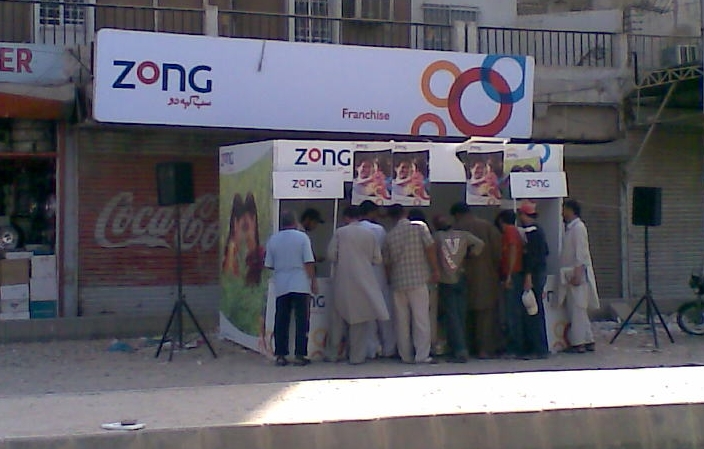 Zong is Pakistan's fourth biggest mobile telco. While that's not remarkable in itself, it's notable that it's actually owned and operated by China Mobile, the biggest telco in the world by subscriber count.
This week Zong hit a major milestone, surpassing 25 million customers, according to a company announcement spotted by ProPakistani. That's out of a total of 125 million mobile subscribers in Pakistan.
China Mobile has driven Zong to that figure in just under six years. The Chinese giant acquired Paktel in early 2007 when it only had about a million subscribers, and that became the basis of Zong as it rebranded and reenergized in April 2008.
(See: This is Pakistan's Web in 2013: Mobile Will Be Huge – STATS)
While the rate of growth seems strong, China Mobile hasn't met the tough targets it set for itself in Pakistan, which was the carrier's first attempt at reaching an overseas market. In December 2012, China Mobile Pakistan CEO Fan Yunjun told Pakistan's Tribune newspaper that Zong was aiming to be number two in Pakistan by 2014. That seems unlikely by the end of the year as the telco's experienced rivals keep ahead. At the time of that interview, Zong was still fourth, with 17 million customers.
Mr. Fan's aim for the number two spot was likely based on a much-heralded merger with smaller rival Warid. However, China Mobile decided not to bid for Warid and pulled out of contention in October 2013.
Mobiilink remains number one with over 38 million subscribers, Telenor is second with 33 million, and Ufone is third with 26 million. Warid is down in fifth with 13 million.
(Photo credit: Flickr user Tariq Mustafa)