Yes, 95.7 percent of China's e-commerce sales are made from PCs, but the number made on mobiles is growing fast. For 2012 Q2, iResearch estimates that 4.3 percent of such purchases will be made on mobiles – up from a mere 1.1 percent at the same point last year.
That mobile spending spree will amount to RMB 11.64 billion (US$1.84 billion) in bought items in Q2 – that's 487.9 percent higher compared to the same period in 2011. The very strong growth in Android and iOS in China will help push that forward even more, especially as nearly all of the country's e-commerce players have very nice apps for those two mobile OSes.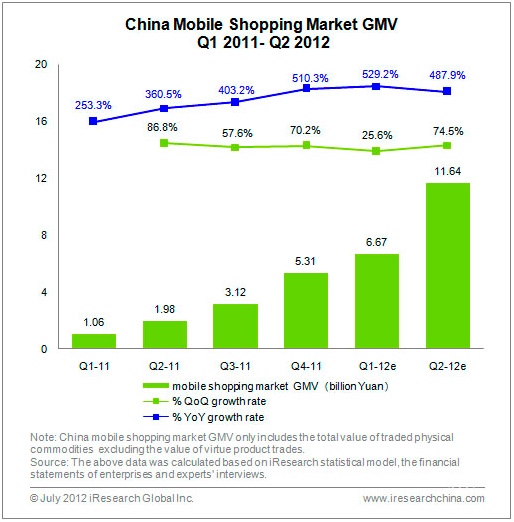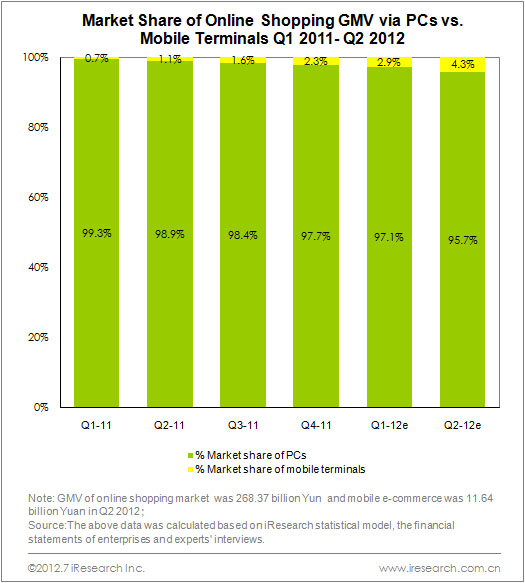 So who are the main players in mobile commerce in China? Perhaps it's no surprise that the two large online malls from e-commerce behemoth Alibaba – Taobao and Tmall – lead the way with a monstrous 75.6 percent share of mobile shopping [1]. Second is 360Buy, the B2C rival to Tmall with 6.2 percent. Those stats suggest that 360Buy is seriously underachieving in its mobile strategy, as Analysis International market share data for China's B2C market shows that 360Buy's share is more in the order of 15.5 percent.
The specialist e-tailers Vancl (for clothing) and Maobaobao (for handbags) stand out strongly in these m-commerce stakes: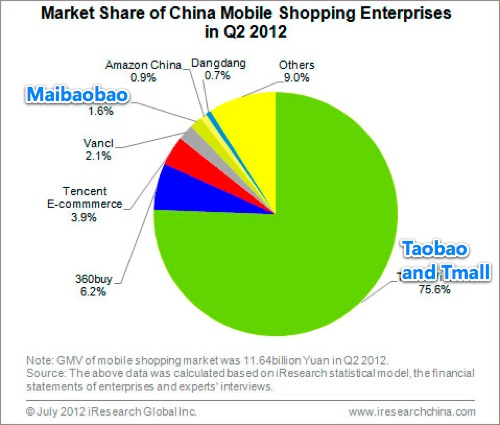 [Source: iResearch]
---
The iResearch graphic mislabeled that portion of the pie as "Tmall" when it ought to refer to both the Tmall and Taobao (C2C) mobile channel sales. They also screwed up the spelling of Maobaobao, hence our hasty Skitchin'.  ↩