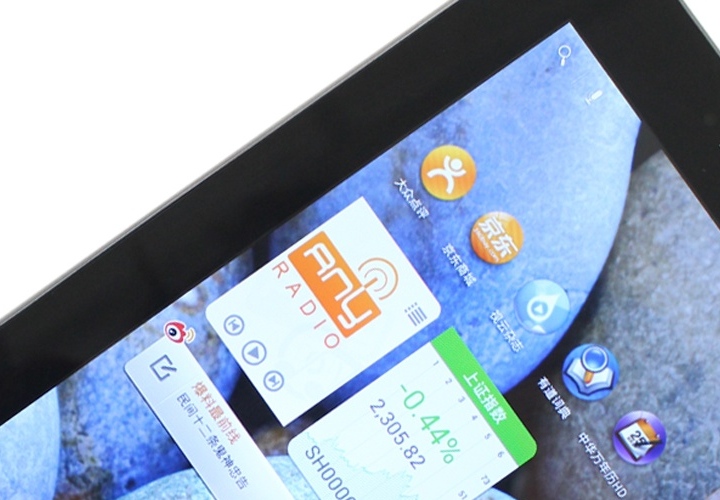 Ben Evans, a technology analyst and consultant, points out that there are about 15 million unactivated Android tablets in the world right now. They've not checked in with Google – they've just vanished. "They're mostly in China," he wrote yesterday on his blog.
As well as China, these vanished Android tablets also tend to be found in emerging markets and in lower income groups in the West. Ben writes:
And it seems that they're being used for a little bit of web, and a bit of free gaming. Perhaps some book reading. And a LOT of video consumption. In fact, one might argue that for many buyers, these compete with TVs, not iPads, Nexuses and Tabs. But regardless of what they're being used for, they're not being used the way iPads are used. In effect, they are the featurephones of tablets.
Yes, these cheap tablets are being treated more like mini TVs.
(See – IDC: China to ship 360 million smartphones this year, 450 million in 2014)
Here's the chart. The pink bar for unactivated tabs doesn't include Amazon's Kindles, which would only check in with Amazon's app ecosystem.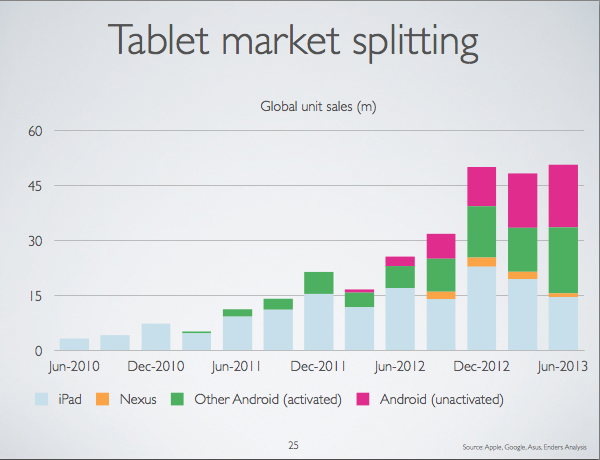 The 'f' word
How are all these tablets vanishing off the grid? Most Android phones and tablets sold in China come with all the Google bits ripped out. No Google Account login, no Gmail, no Google Maps, etc. Admittedly, many Google services are blocked or throttled in China, so people have sought out alternatives that work better.
That's a pain for Google – losing potential app users – and makes life harder for statisticians, but for Chinese consumers it's a positive. They have lots of Android resources – including plenty of third-party Android app stores – to sustain them, many of which are better localized to their needs than Google Play, the official Android store. It also worsens the fragmentation that still plagues the entire Android experience.
That resistance to Google stems from China's consumers disliking being tied to one company's ecosystem. In many ways, that's a healthy thing. But it makes it hard to pin a number on China's Android tablets.
So, how many Android tablets does China actually have?
Is it even possible to figure out how many tablet's China has? The short answer is no. The longer answer is that the usual analytics from firms like Flurry are rendered meaningless by the fact that a great many of China's Android tablets don't go online (or do so very infrequently). Remember that Flurry relies on observing tablets being used on the web.
Flurry's stats for H1 2013 suggest only seven million Android tablets in China, dwarfed by 19 million iPads in the nation:

But, of course, that seven million figure doesn't include China's vanished Android tablets.
(Source: Ben Evans (1) and (2))
(Editing by Josh Horwitz)