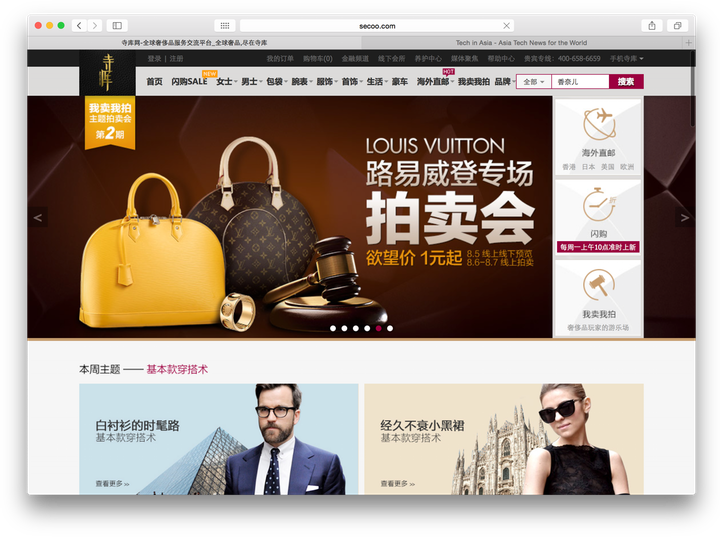 Consumers in China will account for about 20 percent of global luxury sales in 2015, according to a report from McKinsey. That's worth RMB 180 billion, or US$29.1 billion. This sizable, big-bucks market – boosted by China's growing middle class – is already served by a number of luxury ecommerce sites. One of those, Secoo, recently revealed that it has secured US$100 million in funding to help it grow and fend off the competition.
Secoo's new funding – its series D – was led by previous investors CMC Capital Partners, reports ChainStoreAge. IDG Capital Partners, Ventech China, Crehol Capital (Mulliez Family Fund), and Vangoo Capital also contributed. It's the largest ever funding round for a luxury estore in the country.
Secoo – which claims to have three million registered shoppers – specializes in couture clothing and accessories for men and women from brands such as Dior, Burberry, Miu Miu, and Hermes. In this high-end sector it's up against Chinese sites like iHaveU, Glamour-Sales, and Net-A-Porter's The Outnet.
See: Hugo Boss follows the money to China, launches own ecommerce store
But countless other luxury fashion sites have closed in the past couple of years in China, proving that the middle class boom does not equate with easy sales. That's because Chinese consumers know that luxury goods are much cheaper overseas due to the import duties and consumption tax levied on luxury goods in China. If mainlanders head to Hong Kong, they can also avoid the sales tax, meaning they can save well over 50 percent on luxury items like designer-branded clothes and handbags. As more Chinese venture overseas for holidays, a different study by McKinsey shows that progressively fewer mainland Chinese are shopping for luxury items at home.
(Source: ChainStoreAge)