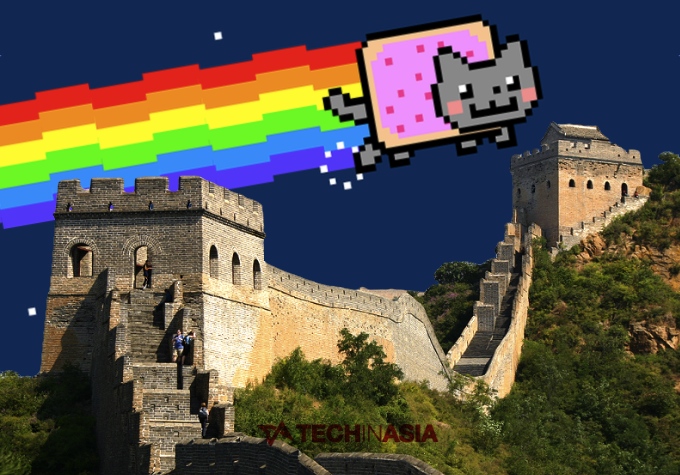 While it's worth remembering that most Chinese web users don't bother to circumvent the Great Firewall internet restrictions (as folks have ample homegrown social and entertainment services), the WSJ reckons that more people than ever are actually leaping the wall to check out YouTube or Twitter thanks to some fairly simple geeky tweaking.
All it takes is for the 'hosts' file inside a Windows or Mac computer – or an Android phone – to be modified with a list of alternative IP addresses for a blocked site you might want to access. This can be done for free. Increasingly, more and more tech-savvy Chinese web users are helping out by maintaining updated lists of which hosts tweaks still work, and then making these lists available online. Right now, these can be found all over the web in Chinese, even on Baidu's Wenku e-books platform, as pictured here:
One such individual helping his fellow netizens leap the Great Firewall is Felix Hsu, whom the WSJ talked to. He says, "Lots of netizens are eager to get to know what's happening behind the wall, but it's not easy for them." Felix helps run a site (sadly, no link is given) that collates these workarounds. He explains that the free service they're providing (which was started in October 2011) saw a massive spike in traffic recently as China's leadership changeover was met with deliberate throttling and slowing of many Chinese internet services. For one 24-hour period at the start of this month, every single Google service was blocked in China – before some of them (obviously not the long-blocked ones like G+ or YouTube) became accessible again.
I get the feeling that most Chinese people who do this are only interested in finding fun things that most of do to pass the time on the web, such as watching kitten videos on YouTube. Nonetheless, Chinese authorities keep a close eye on overseas sites and often block those that are deemed to be carrying news that's too controversial. That's why the New York Times is the latest high-profile site to be blocked in the country.
[Source: WSJ China Real Time blog]