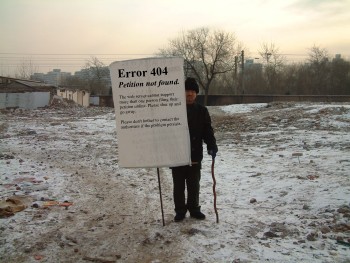 Yesterday, the Wall Street Journal wrote about China's new official petition website, which was launched Monday and immediately crashed, presumably due to heavy traffic. The website, which allows Chinese citizens to file grievances with China's petition office is back online now (if you clicked that link and got an error message, it's just because the website only supports Internet Explorer), but the crash has understandably led to jokes and a fair amount of cynicism online about how seriously China's government could possibly be taking this service if it wasn't expecting a deluge of traffic.
What the WSJ didn't mention is that this has happened several times before. In its fight to battle corruption and abuses of power, Chinese government bodies have launched a series of "citizen reporting" websites over the years, and they almost always get demolished by high levels of early traffic. An anti-corruption website launched in 2007, for example, crashed on the first day due to unexpected traffic. A similar site launched in 2009 also went down on day one for the exact same reason.
But apparently neither of these experiences were enough to convince officials that sites like this need to be able to handle a lot of traffic. But how could that be possible? Is it just incompetence, or is it intentional? It's impossible to say for sure, but it's easy to understand why Chinese people are cynical, especially given that many of the third-party anti-corruption sites (i.e. sites that weren't developed by the government) that have sprung up over the years worked fine even under heavy traffic until the government itself shut them down.
Of course, this story has also played out in other areas of official cyberspace. It's especially reminiscent of the government's online ticket purchasing platform 12306, which crashed and bugged out repeatedly during its first year even as the government shut down third-party competitors that offered much more stable products.
In any event, the new petition site is up again at the moment, and if history has taught us anything, it's that this may not last long, so if you have any grievances to file, you can do so here. (Just remember that you can only use Internet Explorer).