Chinese daily deals site Lashou was, round about this time last year, being lauded as the cunning Groupon clone that would – oh, cruel irony – beat Groupon itself to a US IPO. After raising $50 million in funding in December 2010, and then $110 million in April 2011, this year was marked by a haunting silence broken only by the ominous clatter of Lashou withdrawing its own IPO filing a couple of months ago.
From October 2011 to the end of June 2012, Lashou has lost 55 percent of its market share by revenue. Briefly China's number one daily deals site at the end of the third quarter of last year, it has now sunk to sixth place in the country according to our favorite source of local deals analytics, Dataotuan. We know the IPO is off, but how about funding? It'll be difficult to persuade investors with that kind of track record over the past year. Being China's sixth-largest daily deals site is a bit like being an aging hooker – everyone knows you've been through a lot, and many will wonder if you've got the brains to get your life back on track.
Here's the grim Lashou landscape [1] over the past year, contrasted with the current market leader, Meituan: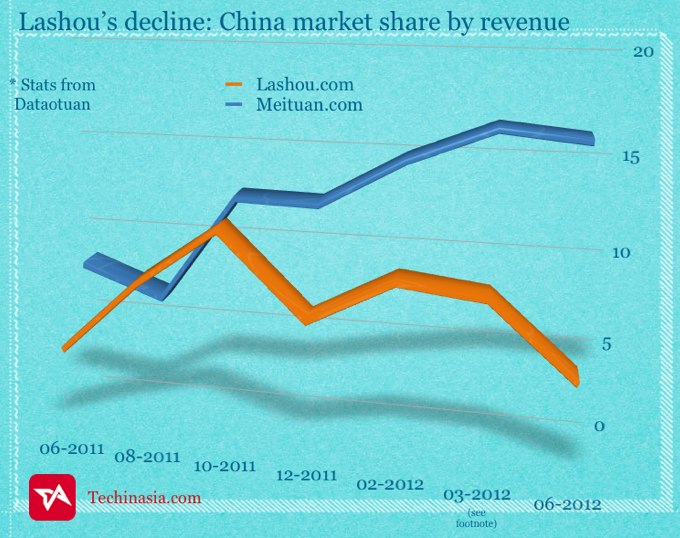 Of course, some are having it worse in China's rough and very fragmented group buy/deals market. Nearly 3,000 daily deals sites have shutdown in the past nine months. And other former luminaries have crashed much harder. Look at poor 24Quan. It has gone from a peak of 8 percent share in October 2011 to – brace yourselves – 0.6 percent in the most recent 2012 Q2 stats. You can practically imagine the company face-planting. Yes, the figures in this sector can be volatile, fluctuating wildly; but that is catastrophic. It wasn't too much of a surprise, though, as the 24Quan CEO spoke to us at the end of last year about its "restructuring" – giving us a sense of unease that the whole venture was in trouble.
As for Lashou, how long can that go? Where's the diversification, the pivot? Or the fightback. Right now, Lashou is clearly on the decline, and its market share is back almost exactly where it was last June.
---
Note that April 2012 stats are missing, so it's a bit out of rhythm at that point. Figures for March 2012 were used instead.  ↩