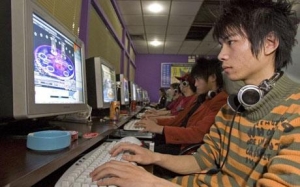 China (中国) is the next big thing. Everyone wants a piece of the market. To date, China has over 420 million Internet users with double-digit growth rate in each of the last five years.
Growth rate, however, is slowing down after it reached its peak on Dec 2007. But that is enough to crown China as the world's largest Internet market.
China has a population of 1.3 billion and so far, only 32 percent of its people are online users. To many, 420 million online users is already a breathtaking figure. But this is really just the beginning. There is so much more potential and growth in the China Internet space.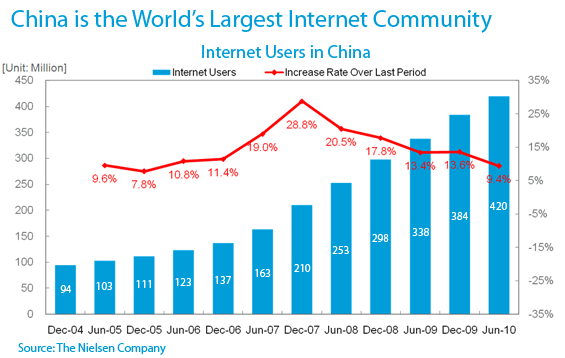 Online Behavior
If you haven't already known, China is the largest mobile device market. The country has over 755 million mobile subscribers; more than half of them are classified as advance users, who access the Internet through their mobile devices.
Digital entertainment takes up a huge chunk of China's Internet time followed by information acquisition. There is a wide range of activities but the top motivation is to gain access to online music. Baidu, China's largest search engine has a section dedicated just for online music search.
Consumer-generated media (CGM), according to Nielsen, is growing in popularity. More than 50 percent of all Chinese Internet users write blogs and use social media to voice their opinions while BBS slowly gives way to newer technologies. Renren is the 'Facebook for China' with over 120 million users while Sina Weibo is the largest micro-blogging site in China.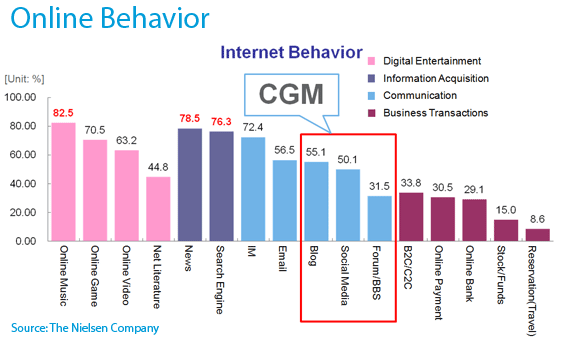 Digital advertising in China is also booming as total ad dollar spent reached almost 15 million RMB in the first three quarters in 2010, a 21 percent increase over the same period in 2009. The fashion industry (19.2%) is the biggest digital ad spender, followed by automotive ads (17.9%). On the rise are online ads for manufacturer/wholesalers, community sites and energy/raw materials, which show the greatest year-on-year growth.
More China-related resource:
1. China is the Biggest PC Battleground for the Next Decade
2. Understanding China's Mobile Market
3. Facebook, RenRen and China's Firewall