China is changing the game in international innovation and research and development (R&D). According to Professor Seamus Grimes, a research professor in Social Sciences and Public Policy at the NUI Galway, China has long since decided that "it is no longer willing to be the minor partner in terms of added value and profitability" in any industry. The demands of authorities for 'indigenous innovation' represent, he says, a kind of gamble for multinational corporations; for access to the huge Chinese market, foreign firms put their innovations on the line.
But Professor Grimes, from his field visits to Chinese R&D departments as part of his work at NUI Galway, insists that overseas companies like Nokia (HEL:NOK1V; NYSE:NOK) are not in direct danger from their helping out in this indigenous innovation. Yet there are warning lessons for other companies from Motorola and Nokia both struggling in China in the long-term despite their significant investment in local R&D. And let's not forget China's new giants, such as ZTE (HKG:0763; SHE:000063) and Huawei.
To discuss whether China might be bending the rules on innovation, and to ponder the rise of China's own R&D, Seamus (pictured below) agreed to field a few of my questions (note that the footnotes are mine):
1. You've written a lot of the "growing internationalisation of R&D activity" – how has that worked out in China in recent years?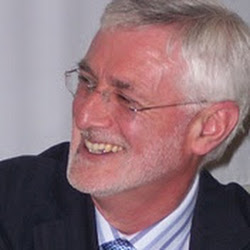 Seamus: It's not very many years since the general pattern was that the greater part of R&D activity took place either in the company's home country and also at headquarters. The greater part of multinational R&D continues to take place in the world's more developed regions, but things have begun to change in more recent years as multinationals have become more globalised through outsourcing and offshoring. During this more recent period locations within the so-called BRIC (Brazil, Russia, India, and China) countries have become increasingly attractive locations for decentralising some aspects of multinational R&D activity. But it is important to realise that in the overall context this important development remains a small, but rapidly growing part of the total.
Obviously the huge growth in foreign investment in China in recent years has added greatly to China's attractiveness as a location for R&D activity. In many cases, foreign-invested companies have played a major role in the initial period of China's integration into the global economy, and in some ways the more recent focus on R&D reflects a maturing of the profile of investment. In addition to using China as a low cost manufacturing location, many multinational companies have been placing a greater focus on the China market and on their need to learn to compete effectively within that market, not only with other multinational companies, but increasingly with some very effective Chinese companies. While the focus of the R&D activity in China can have various aspects to it related to both the local market and global activities, the need to develop products more suited to this increasingly important market has been a driving force.
The recent policy push of the Chinese government towards 'indigenous innovation' has also been very significant. This means that to ensure access to China's market and, particularly to the significant public procurement part of that market, there was increasing pressure on foreign companies to develop products in China, register intellectual property locally, and use Chinese technology standards.
2. What about fears of theft of intellectual property (IP) – of business and innovation ideas being stolen?
Seamus: There are widespread concerns about IP in China, and at the same time there is general acknowledgement among foreign companies that progress is being made, particularly in relation to the IP regime which has been put in place. The difficulty lies with implementation and judicial independence. There is a strong culture of copying and reengineering products [1] by Chinese companies and changing this culture will take considerable time.
Major consultants advise foreign companies to adopt specific strategies to avoid IP being stolen, such as not introducing their latest technology to China, or in some ways fragmenting the R&D process so that the end product would be difficult to commercialise. But the attractiveness of a market, still experiencing significant growth, relative to the rest of the world, can be too alluring for some companies and they are prepared to gamble. Specific evidence of IP theft is difficult to unearth apart from particular court cases [2], but there have been many media reports and certainly companies are highly cautious about losing IP in China.
3. Often, 'technology transfer' is a legal requirement of doing such business in China. But isn't that just feeding your smaller rivals until they've grown up enough to bite you?
Seamus: I'm sure that is how some doing business in China see it, but there are many different perspectives and also different experiences. Initially the policy was technology transfer for market access with the requirement to establish a joint venture with a local company. Since accession to the WTO, things have loosened up somewhat, but strangely have tightened in others, because of this new focus on 'indigenous innovation'. Basically the initial policy was not particularly successful. Some academic studies suggest that local companies for a variety of reasons, such as low technological capabilities, did not really benefit from technology spillovers. However a growing number of Chinese companies have emerged in various sectors such as telecoms equipment, which have not only dominated the local market, but have become global players in a few cases [3].
Although the multinational business R&D model is globally-oriented and is not directed towards benefiting local companies that can then become competitors, my experience is that multinationals in China are prepared to give something back to China for the opportunity of benefitting from the market and the Chinese talent. It's the bargaining process around this between multinational companies and the Chinese state which is fascinating. China pushes very hard, and then over time makes some realistic adjustments. But the political thinking driving the push for 'indigenous innovation', which is geared towards greater technological autonomy for China, is a considerable worry for many companies. From China's perspective, it is no longer willing to be the minor partner in terms of added value and profitability, while the lion's share goes to the owners of IP in the form of royalties and license fees [4].
The other aspect of this relates to how the Chinese market has been evolving over time, with a growing middle class of consumers. In the initial period the multinationals with their focus on the luxury market had little or no competition in China. The only problem arose with significant areas of the economy still restricted to state-owned enterprises (SOEs). Restrictions still continue, but the main difference is the rise of Chinese competitors from the lower tiers of the market. Now the multinationals are facing intense competition for middle tier China; and in many respects, the local companies, while not being major investors in R&D, are very adept at taking existing technology and adapting it to the local market. The new policy context of indigenous innovation puts further pressure on multinationals to comply with the Chinese state's own model of moving further towards technological autonomy. So, in a sense, you are correct to say that it might benefit local rivals. But China may be one of the first countries in the world, because of its political system and its huge market, which could bring about a significant change in the traditional multinational R&D model.
4. Could that huge change you mentioned actually see a major company like ZTE or Huawei, become a R&D powerhouse itself, with labs across the globe?
Seamus: This has already happened to some extent, but there continues to be considerable ambivalence about some of the very successful Chinese companies, in terms of their ability to be truly innovative and to be true technology leaders. There is considerable admiration throughout China and beyond for Huawei's achievements in a relatively short period, but to suggest that such companies may be the leading multinationals of the future may be going too far. Certainly some of the competitor companies such as Nortel and many others, which were major players in the Chinese market in the earlier period of foreign investment have suffered decline and have seen market share, not only in China but in other parts of the world acquired by Chinese companies. There is always media speculation about the role of the Chines state in the rise of local companies, and no doubt China has had a policy of national champions and of providing financing to help Chinese companies expand globally.
In the case of Huawei, however, much of its success derived from its ability to adopt technology for the Chinese market, initially in rural regions and lower tier cities and work upwards. It also moved into developing countries where there was less competition from other multinationals, and more recently has won contracts in many developed countries. Political suspicions continue to dog its efforts to penetrate the US market. But its overall approach has been quite professional, developing alliances with other major technology companies in the west and, as you suggest, establishing many R&D centres outside of China. It has also built up a huge number of both Chinese and international patents. In many ways it is seen as providing a model for other Chinese companies to become more global. The major question that is more difficult to answer is whether many Chinese companies will become true innovators and become known as significant technology leaders. This has not happened to any great extent to date.
5. Amidst all this competition as China opened up, has any Western company, from your field-work and observations, actually lost out due to its China-based R&D? Examples might be the decline of Nokia and Motorola [5] in China? Or was that entirely due to consumers and regular market forces?
Seamus: There is little doubt that some foreign multinational companies in China have lost out, but there probably are a number of reasons both relating to China and their position in the global market why this might be the case. It is a fascinating question why some companies such as Motorola and Nokia, who were among the leading pioneers in establishing significant R&D activity in China, initially seemed to have considerable success, but over time have lost a significant part of their market share. Various explanations are put forward for the performance of these companies globally, but their experience may provide a warning to other companies about their long term expectations from the Chinese market. The new policy of indigenous innovation in China may make it difficult for foreign companies to grow their market share over time. Also expecting China to produce innovative products that may help them dominate global markets may be expecting too much.
The role of the state in promoting its own technology standards, particularly in areas like 3G telephony [6], may also help explain how things have evolved. This overly nationalistic approach towards technology development, which is part of the push for technology autonomy, has not been very successful and even Chinese companies like Huawei, who had already become internationalised, were reluctant to become wedded to a standard which had an uncertain future. This type of policy environment is not particularly suited to multinational technology companies that are focused on the global market.