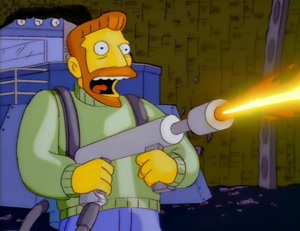 China has far-and-away the greatest number of users of Microsoft's (NASDAQ:MSFT) ancient Internet Explorer 6 (IE6) browser, with Chinese users of the decade-old web browser accounting for 27.9 percent of its global usage. That's according to statistics compiled by Net Applications and which are touted by Microsoft itself. The tech giant actually wants IE6 to die so that the web as a whole – which is still so dominated by Windows and, by extension, Internet Explorer – can be a safer place.
That's the reason behind Microsoft's decision to follow the lead of Google's (NASQAQ:GOOG) Chrome, or Mozilla's Firefox browser, and implement auto-updates. That should get everyone in China up to the safer IE8 or IE9, right? Well, no. Because as PC Mag explains, these auto-updates will only occur for users who have "automatic updating enabled via Windows Update" on either XP, Vista, or 7. But I get the feeling that most of the people in China who're still using the out-of-date software have turned that off, either due to the persistent nagging of the auto-update, or due to fears of their pirated Windows OS being detected.
And so IE6 will persist. Last time I checked Microsoft's 'IE6 Countdown' site, on which it actively encourages people to upgrade for security and feature benefits, was back in March of this year when the China-IE6 stat was at 34.5. So it has dropped nearly 7 points in terms of detected traffic usage in the past nine months. At this rate, it'll still take two years to die off totally in China, presuming that the auto-update implementation has no effect here.
Here are the updated stats for China and the world: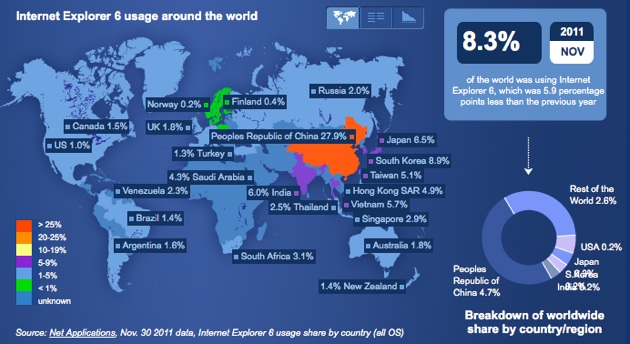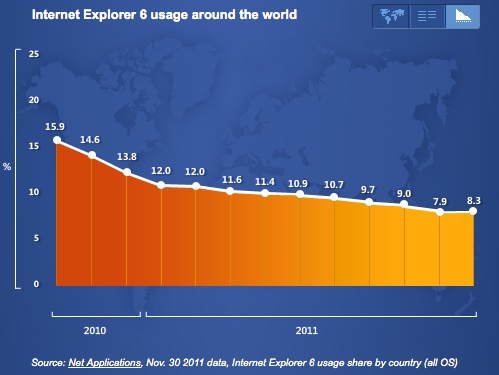 But in good news, IE itself is becoming less popular in China, with the growing popularity of home-grown browsers such as those from Qihoo 360 (NYSE:QIHU), Sohu's (NASDAQ:SOHU) Sogou, and Baidu's (NASDAQ:BIDU) recent Chrome-esque browser effort as well. Though all of those are based, in terms of their rendering engines, on IE7 – so web standards and compliances are still some way from being ready for HTML5, WebM, and other new things.
Check out the IE6 Countdown mini-site which gets updated with stats each month on that browser version's very slow and sickly demise.