When you walk into a new restaurant and spoiled with a delectable range of food porn and aren't sure what to choose, you could probably use some recommendation from the service staff. But you'll need to bear in mind at times they are being taught to upsell certain dishes and may not have tried them personally. So if you are based in Beijing, Shanghai, Guangzhou, or Shenzhen, you might want to try out Fanqie Kuaidian (番茄快点), an app that recommends what to order when you're eating out.
Created earlier this year, the Beijing-based startup aims to ease your ordering process by churning out a list of recommended dishes for you, along with the average price per pax within 10 seconds. All that is required of you is to indicate if the app has accurately detected your location and how many people you are dining with. Don't like the combination given? Just shake your phone and a new list will be generated until you're satisfied.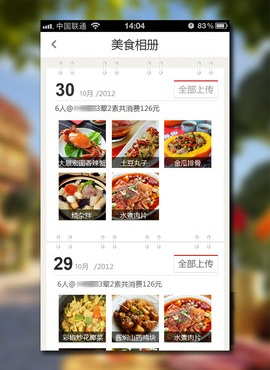 And if you prefer to have some control over what is on the list and would like to remove a particular dish from the list, all you need to do is to swipe to the right and that is done (pictured right). Still prefer to have full control over what goes into your stomach? Fanqie Kuaidian also boasts full menus for most restaurants in the four cities listed above, and also indicates which dishes are most popular, so now you will know which dishes are "must-order" according to patrons who have visited the restaurant.
You can also take tantalizing photographs of the dishes and upload according to what you have ordered. It also works as a food journal (pictured right) where you can reminisce on how that piece of peking duck was roasted to perfection and melts in your mouth without having to chew. You can also contribute to the dish's ranking by giving it a thumbs up or down.
Aside from recommending what dishes you should order, the app also includes little pockets of information to educate the diner. For instance, if you are dining at a Korean restaurant, it explains why Korean chopsticks are flat and made of metal; it also tells you what would be good to consume for the current season, as well as its nutritional value. And the app is designed in such a way that the more you use it, the more it understands your eating habits. So it will be able to recommend better dishes every single time you whip out the app to aid in your order.
The startup also claims that its creation has become one of the top recommended apps by Apple within just one month of launch, and it has been featured on third-party Android app store WanDouJia as one of the best designed apps.
So if you happen to be in those four cities in China and are spoiled for choice (provided if you read Chinese, of course) when it comes to ordering food, do give the app a go on your iPhone or your Android device.