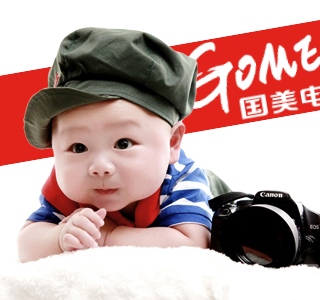 With a nation full of "little emperors" needing clothing and pampering, specialist babycare e-commerce sites are huge business on the Chinese web. And that's motivation enough for retailer Gome (HKG:0493) to have entered into a 1 billion RMB (US$160 million) partnership with Qinqinbaby.com to bring mother-and-baby items onto its fast-expanding online mall.
Gome was originally a brick-and-mortar chain that focused on gadgets and home electronics, but its shift into e-commerce in the past few years has seen it also embrace books, clothing, and hundreds of other product lines. Zhang Bing, the vice president of Gome Online, said that the new maternity and babycare portal will come online in the first half of this year – and the company aims for it to be one of China's top three B2C online sellers in that specialist area.
The new product vertical will be up against the offerings from the general e-commerce site 360Buy, as well as from Gome's nemesis Suning, a very similar electronics retailer that's expanding aggressively online. Indeed, the move by Gome might have been sparked by Suning acquiring Redbaby in September of last year. Suning has grown to be China's fourth-largest e-commerce player by the mid-point of 2012, while Gome and its affiliate Coo8 site languish in the margins.
The Gome site already has a number of maternity-related products, such as baby milk powder and toys.
[Source: MorningWhistle]