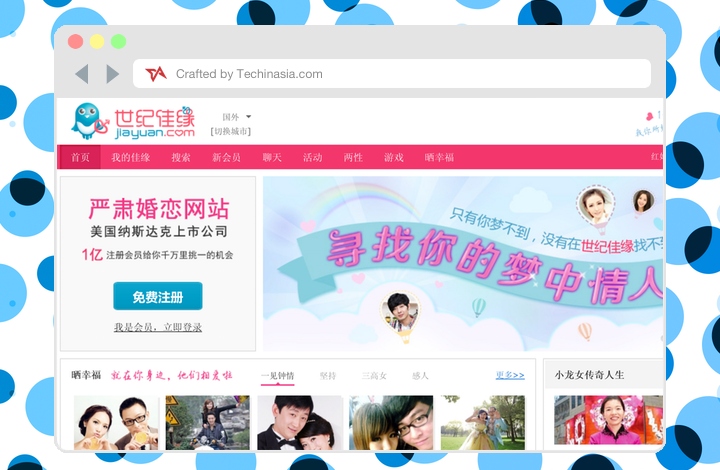 China's biggest dating website, Jiayuan (NASDAQ:DATE), has revealed today that it now has 100 million registered users.
The site claims to have helped 12.3 million people find love in the past ten years. It started up in 2003.
While 100 million registered users looks awesome as a huge number on paper, that's fairly slow growth for the Match.com-like Jiayuan. It was at about 50 million sign-ups in late 2011, so it's taken over two years to double its user-base. It was at 90 million in July 2013.
In contrast, a new wave of fast-paced, mobile-only flirting apps like Momo have grown at lightning speed in the past couple of years. Momo has gone from zero to 80 million users in just two years, and is growing so much faster than Jiayuan that it'll probably surpass 100 million the next time it gives us new numbers.
Jiayuan came out with its own sexy chat app in November called Dali, but it's not clear how that's performing.
The real number
How many of Jiayuan's 100 million users are active? According to the newest numbers in Jiayuan's Q3 financial report (the company went public in 2011) that we looked at in November, it has 5.43 million monthly active users. That's up an almost glacial 3.5 percent from Q3 2012.
The site, which makes money from premium online services as well as offline dating events, made $2.9 million in net income in Q3.
Yes, 100 million is a nice number, but it's just a glitzy facade.
See more: 6 dating apps from Asia
(Editing by Josh Horwitz)