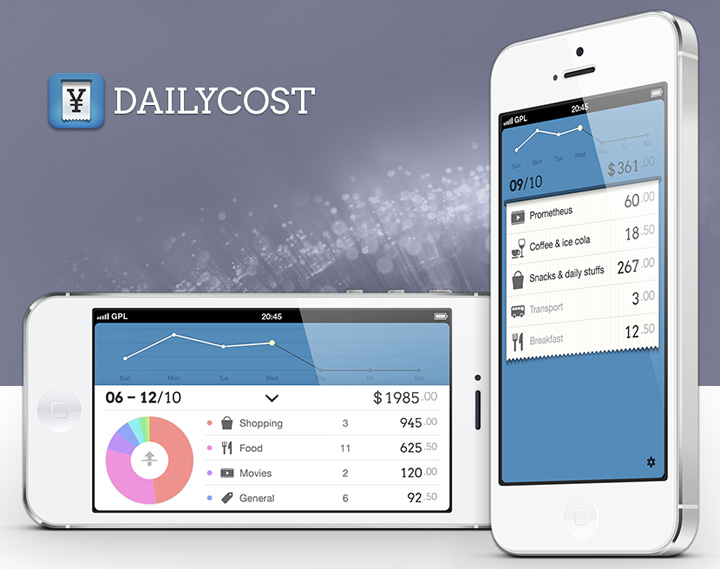 DailyCost is an iOS app that helps you track your daily expenses. It's beautifully crafted by founder Goupeng Liang who is based in Hangzhou, China. It was first introduced into Apple's App Store in October 2012 for $1.99 and has so far attracted over 240,000 users worldwide, supporting 10 languages and over 40 currencies.
I gave the app a try and really like it. It's intuitive to use and upholds Liang's claim that any cost can be inputted into DailyCost within three seconds. To key in a personal expense, simply select a type and an amount. DailyCost also allows users to export data to CSV so they can do extra analysis if needed. The DailyCost app also provides a chart to visualize your expenses broken down by what you have spent on.
DailyCost is somewhat similar to Mint but doesn't connect to users' bank accounts – which may be a good or bad thing depending on your need. Liang claims that Mint's service is very region-restricted, and only connects to bank accounts in the US or Canada. I guess for someone who just wants to keep track of their spending on mobile, DailyCost will be a better choice over Mint.
With so much debate over the merits of HTML5 versus native apps, Liang says that DailyCost is a hybrid app developed using HTML5 technology and Phonegap. For users, the app does indeed achieve a smooth user experience that is identical to a native app – yet the app is actually just a HTML5 wrapper. So far, DailyCost is only available on iOS with an Android version in the works.