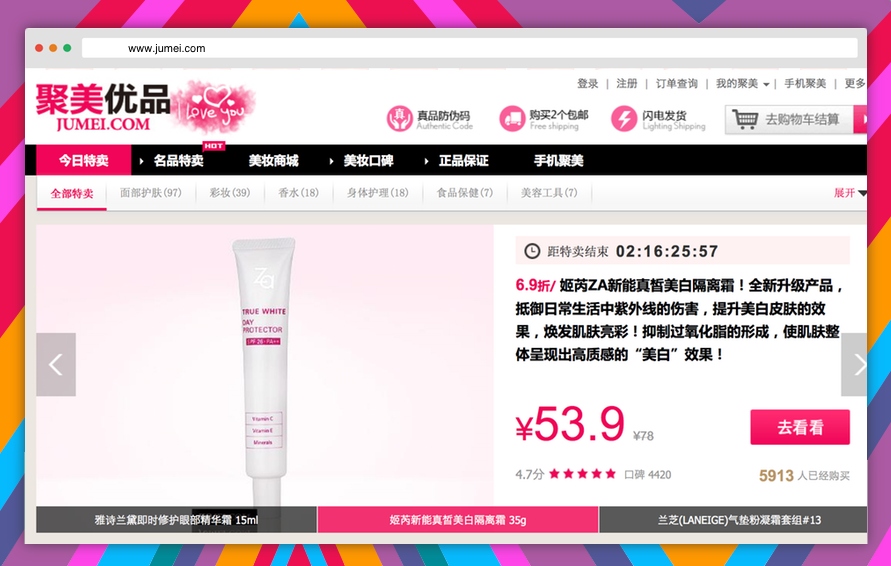 China's daily deals industry is worth about US10 billion per year – and that makes the risky and highly fragmented sector worth fighting for. Among thousands of Groupon-like sites in China, only about 10 have risen to prominence. The most specialized of these is Jumei, which sells discounted cosmetics and skincare products. Over the weekend, Jumei filed with the US SEC for an IPO in which it'll raise up to US$400 million.
Jumei will be the first Chinese daily deals site to IPO.
(See: Alibaba issues statement, set to IPO in New York)
Over 10 million active shoppers
Jumei's SEC document reveals that the site has 10.5 million active customers in 2013 – more than double the 4.8 million figure in 2012. 89 percent of orders are from returning customers. Jumei claims that 49 percent of sales come from people on mobile devices. The estore pulled in $483.0 million in net revenues last year, and from that managed to scrape $25.0 million in net income.
Sequoia Capital has been the main investor in Jumei in the past couple of years. The company revealed this weekend that Sequoia's input amounts to $23.4 million for an 18.7 percent stake.
2014 is set to be a bonanza year for Chinese tech IPOs. The nation's top two ecommerce companies, Alibaba and JD, are set to list in the US at some point this year.
Jumei's SEC filing is here.