We've been seeing China's hotly-contested daily deals industry settle down a bit in the past year – and now new data for 2012 Q3 shows huge consolidation of power (ie: market share) in the whole sector. In the most recent quarter, China's top three deals sites – Juhuasuan, Meituan, and Dianping – account for 62 percent of all sales.
Back in Q2 of this year, the top three were a little different – Juhuasuan, Meituan, and 55Tuan – and accounted for 47.5 percent of all deals sold in the country. All those stats come from Dataotuan, which today released its deals report for Q3. Here's the key pie chart: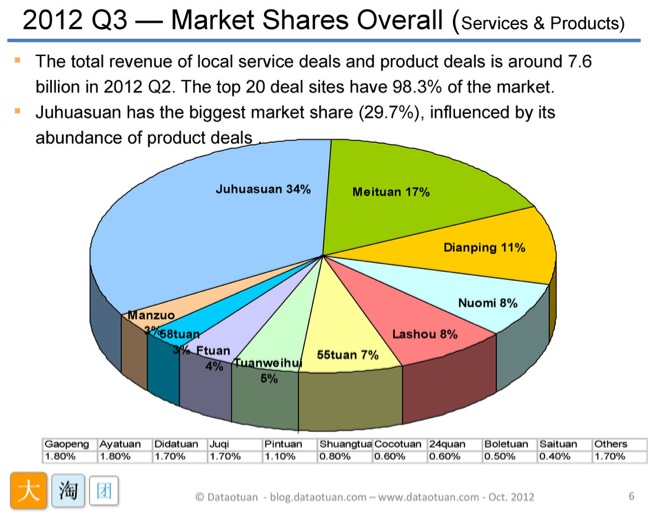 The new report shows – apart from serious consolidation at the top – a lot of other details about what Chinese consumers go for. See the embedded slideshow for the full thing. Other highlights include the fact that average price of deal sold is up from 154 RMB in Q2, to 186 RMB (US$29.60) in Q3. That might be partly down to price inflation in China, but deals site must also be pleased that consumers are slowly coming round to buying pricier items on those Groupon-esque sites, such as travel packages. Speaking of Groupon (NASDAQ:GRPN), its official China service, Gaopeng, moved up a meagre 0.1 percent to hold onto 1.8 percent share.
The market leader, Alibaba-owned Juhuasuan, does the best job of getting users to spend more: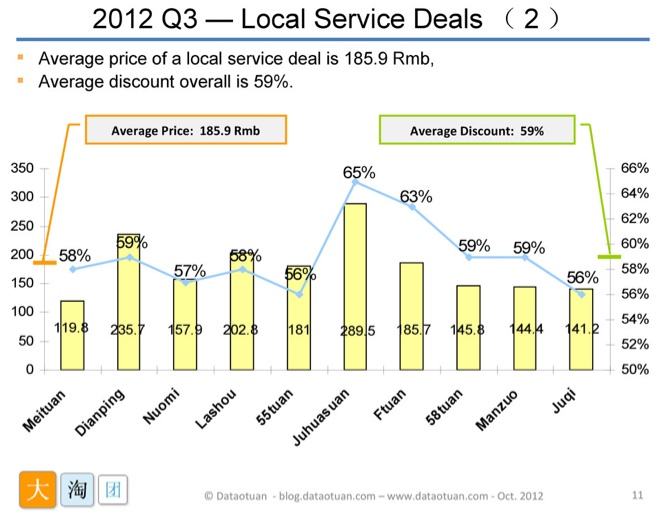 Here's the new report in its entirety:
[Source: Dataotuan]