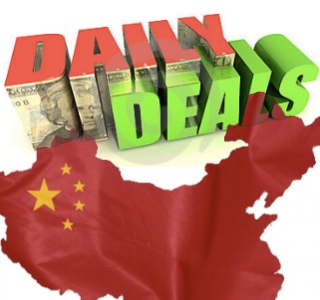 We're following China's daily deals market very closely, digging into quarterly market share data as soon as we can get our hands on it. Today it's time for Q4 2012 statistics courtesy once again of Dataotuan. We can see that China's top three deals sites remained the same – and to join their ranks at the top of the industry and be a serious player, you need to be bringing in over US$32 million (RMB 200 million) in revenue per month. (UPDATED March 3rd: Dataotuan issued a correction for that number, and so we have amended it accordingly in this article).
Indeed, China's top three – Taobao Juhuasuan (first), Meituan (second), and Dianping – now account for 70 percent of all revenue in this group buying sector. That's up from the triumvirate dominating 62 percent of sales in Q3.
Before seeing all the market share details, let's see how this hierarchy is emerging among the deals sites. Previously, stronger sites like 55Tuan and Lashou are continuing to lose market share and so they're now in a lower tier of players: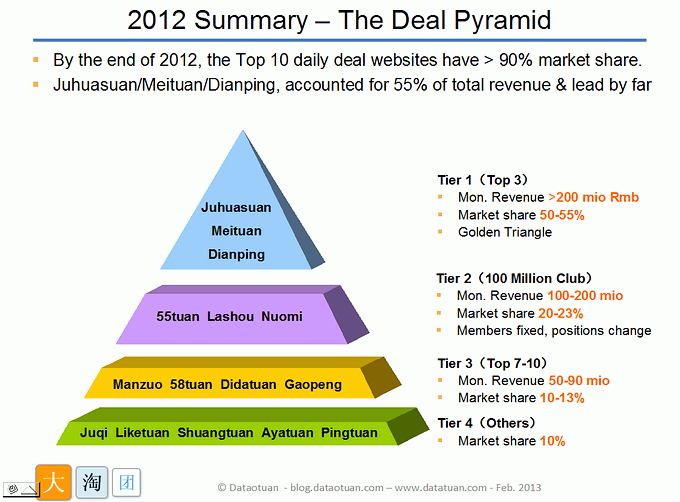 The market leader, Taobao Juhuasuan, saw a huge surge in revenues from Q3 to Q4 going up from 34 percent to 47.8 percent. Remember that Taobao Juhuasuan is a part of China's massive Alibaba Group, which runs the Taobao and Tmall online stores, so it's clearly a rival that can eat up any online sales channels: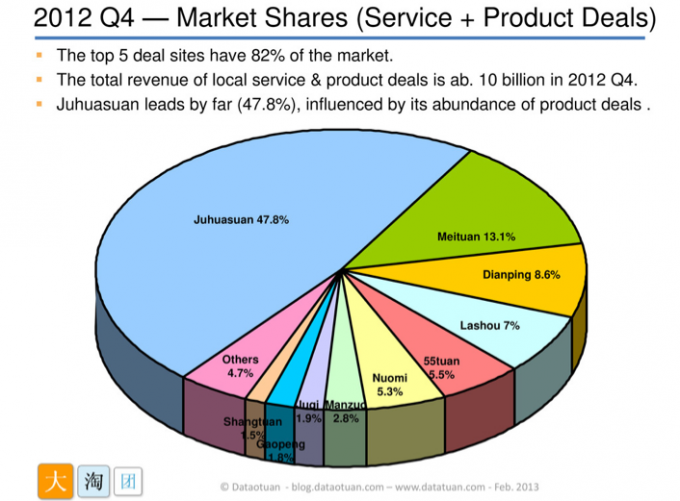 For more details about average spending per customer and the kinds of deals they buy, check out the full slideshow:
See more statistics from Dataotuan on their blog.