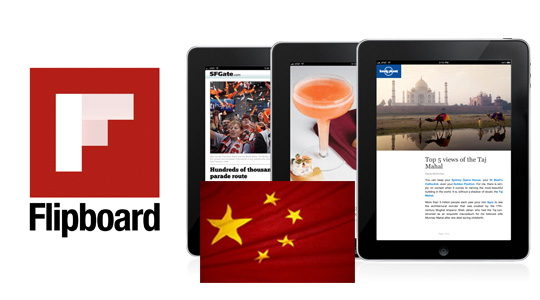 Mike McCue, CEO at Flipboard tweeted, "China has now officially blocked @Flipboard. And here come the clones. Meanwhile we're all in debt to the Chinese govt. Where does it end?"
Flipboard, The iPad App for 2010, is reportedly blocked in China. The reason isn't yet known as he explained to TechCrunch's @alexia:
"Don't have much detail. Just heard. Lots of folks in China had been using us happily until now. Will have to figure out what's next."
Facebook and Twitter are blocked by China's great firewall. Flipbook, through its U.S server, acts like a proxy to allow access to both social networks in China. Amazon's Kindle is another such vehicle as its Whispernet allows users to surf the internet without restrictions — or at least insofar as you can surf the net on a Kindle anyway
Meanwhile, like any great product, Flipboard has clones in China. Technote has a great summary of them all saying that Flipboard could 'the most copied iPad application in China.'

We just emailed a contact at Flipboard to see if we can find out more. We'll update as we learn.
#Update: A member of the Flipboard team says this morning that "[we are] trying to figure out the extent to which we're being blocked. It looks like the application in its entirety is now being blocked courtesy of the Great Firewall."
(See also: Here's a list of websites blocked in China)
Via TechCrunch