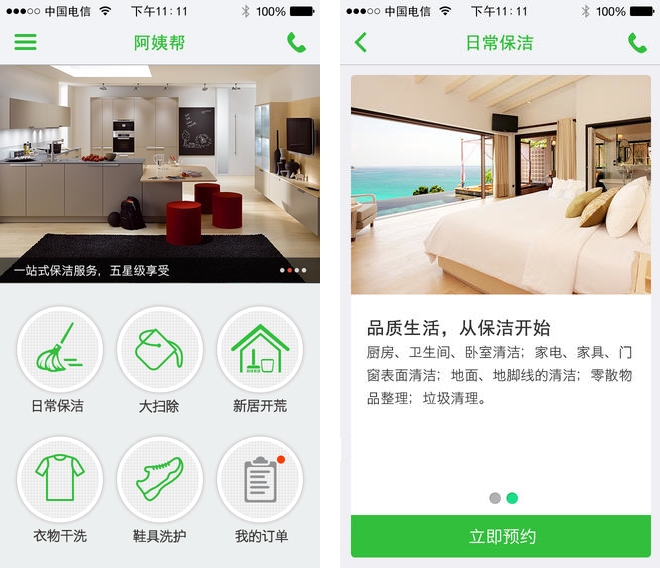 With China's growing rank of middle classes and ever more hectic urban lifestyles, there's inevitably a new niche market that needs serving: maids. Part-time domestic helpers are increasingly common in mainland China, and online services are popping up to match cleaners with households. One of these, Ayibang, is a strong contender. Today the startup revealed it has secured series A funding to help grow its platform.
Ayibang – which literally means "maid help" in Chinese – got, according to founder Wan Yong, a vague "millions of dollars" in funding from an unspecified source. That's a common way Chinese startups describe their financing rounds.
Taking the form of both a website and a mobile app, Ayibang connects people with local service providers, allowing you to mix and match temporary employees for things like regular cleaning, a heavy-duty cleaning of a new or rented apartment, and laundry. More services, such as home cooking, will be added in due course. The startup partners with local agencies to provide the staff.
The Ayibang team reckons that it's both a safer and more convenient method of finding domestic help than the normal way of asking friends for connections, or turning to online or newspaper classified ads.
For now, the service is focused just on Beijing, where it has 500 cleaners and service people signed up to the platform. It's seeing about 350 orders in Beijing per day. It's still early days, but it's a sector with enormous potential.
One major rival is eJiaJie, which secured $650,000 in seed funding in September from Chinese web giant Tencent.
Ayibang has apps for iOS and Android.
(Source: 21cn Tech – article in Chinese; via Technode)
(Editing by Paul Bischoff)