It has been a year of ups and downs for Apple (NASDAQ:AAPL) in China. On the financial side, Apple did quite well with China accounting for 16 percent of its revenue for the quarter ending in September. The company had new stores open in Hong Kong and Shanghai, which was also reason to Apple fans in China to celebrate. Overall the nation's passion for all thing Apple was certainly a positive. But there were a few individuals in China this year who put Apple in the headlines for all the wrong reasons. Here's a quick look back at five of the more remarkable ones that we covered this year:

1. Chinese Teen Girl Offers Virginity for White iPhone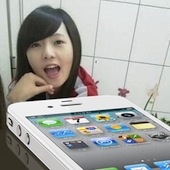 Back in June, a girl was caught offering up her virginity on Sina Weibo in exchange for a white iPhone 4. She made her QQ number available, so that any prospective 'buyers' could get in touch, so to speak. You can read the full story here, which includes a short video news report.
Amazingly a similar story emerged back in October of a girl who would go even further than that. According to the Baidu Beat blog, a certain young man discovered his girlfriend's chat history in which she offered to sleep with a stranger for six months if he would give her an iPhone up front!

2. Chinese Boy Sells Kidney to Buy iPad, Now Regrets It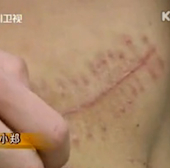 And if you thought that those girls couldn't be topped, think again. A misguided 17-year-old fanboy from Anhui province with his eyes set on an iPad 2 decided to sell one of his kidneys in order to fund the purchase. He traveled to a neighboring city where he had the procedure done, and then was paid 22,000 yuan (or about $3500).
It's a sad story, because this guy is just a kid after all. We hope he's doing ok. Read the full story and check the video news reports here.
3. Bored With Faking iPhones China Decides To Go Big: Fake Apple Stores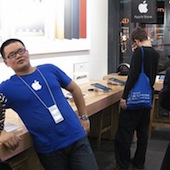 Fakes iPhones are nothing new in China, but we were pretty astounded last July when an entire Apple Store was faked. Yes, an entire store. Complete with the trademark blue employee shirts and the same interior decoration, they actually did a pretty good job copying the real things.
The sign out front is a bit of a giveaway though, as it read 'Apple Stoer.' The store was subsequently shut down by local authorities. Read the full story here.
4. Scuffles at Apple Store in Beijing leave one man beaten, 3 others injured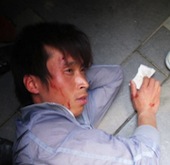 We all look forward to product launches, but this certainly isn't what you want to see. Just a day after the iPad 2 hit stores in China, and not long after the iPhone 4 went on sale, a ruckus broke out in a long queue outside the Sanlitun Apple Store in Beijing, resulting in one man being beaten and a few others injured. Details are scant, but apparently there were 'scalpers' trying to resell their iPhone 4s and iPad 2s, and when tensions overflowed, a store employee had beaten the man. Reportedly a financial settlement was subsequently reached between the employee and the man. More details are in our original report.
5. iPhone Giveaway Backfires for Groupon China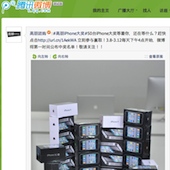 We've written more than our share about Groupon's troubles in Asia, ranging from a fake watch scandal in China, to fake reviews in Korea, to a data leak in India. But there was one incident in particular that saw two of its own Gaopeng employees (which is run by Groupon and Tencent) hijack on online iPhone giveaway in the hopes that they could take the prize for themselves.
They were discovered when the winners were announced both on Sina Weibo and on Tencent Weibo. The only problem was that some people noticed that the same individuals had won on both microblogging platforms. Oops! You can read more about it in our original story from back in May.