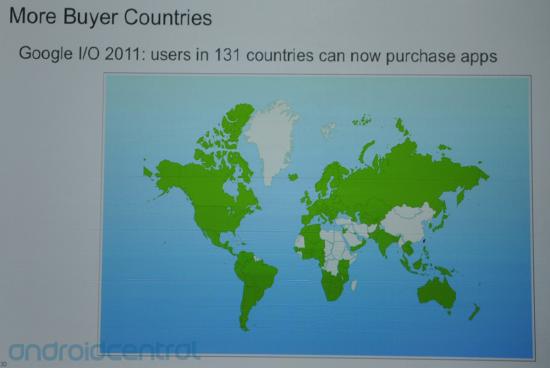 China is conspicuous by its absence in the long list of countries that will soon get paid apps support in Google's Android Market. It highlights that the Google versus China battle is far from over, and that China is an immensely difficult place for an international firm to implement a global platform – it risks getting blocked at ISP level (aka The Great Firewall), or at a legal level (media and technology being especially tightly regulated, and politicized) by Beijing authorities.
The image, above, comes from an AndroidCentral.com blogger at the ongoing Google I/O 2011 conference; China is a blank white landmass on the map, alongside the mostly uninhabited Greenland, and a handful of the world's most war-torn or censorious countries.
This omission also means that China-based developers cannot sell paid apps on the Android Market, unless they can find overseas funding to afford a publisher in another country, such as the popular Camera360 app has achieved.
Android smartphone users in China can still browse and download free apps. A number of alternative app markets provide a mix of free and pirated paid apps for users to download which can supplement Google's Android official market.
There are still some other ways of legally getting games, such as the recent Rovio Mobile deal with DownJoy.com to allow Chinese gamers to get ad-supported versions of the popular Angry Birds suite of games.