China now has close to half a billion 3G subscribers, according to the newest data from the country's three telcos. Four years and eight months after China first slipped the switch on 3G mobile data, the numbers have gone from zero to 486.5 million.
How about 4G? After a very late start last December caused by a preference for pushing the homegrown TD-LTE standard for 4G, China now has a total of 13.97 million 4G subscribers, says Zhang Feng, chief engineer at the State Council Information Office (SCIO).
Here's the scene in China across 3G and 4G: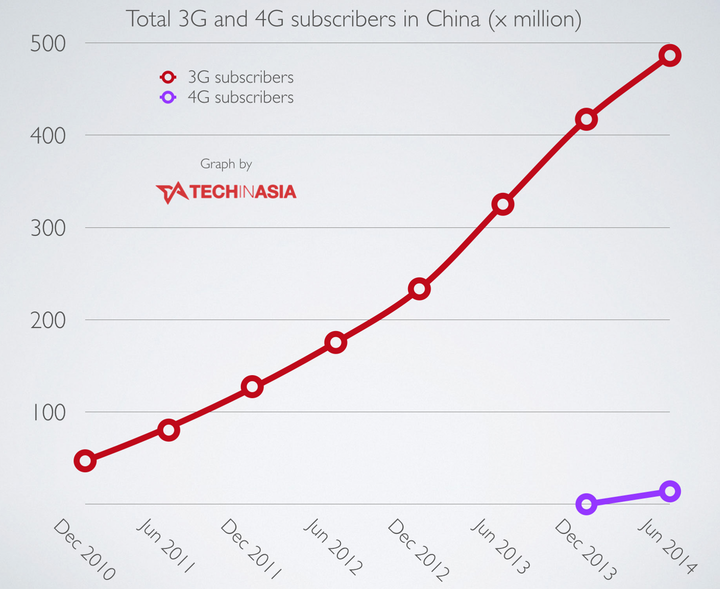 And this is the breakdown by the three telcos just for 3G: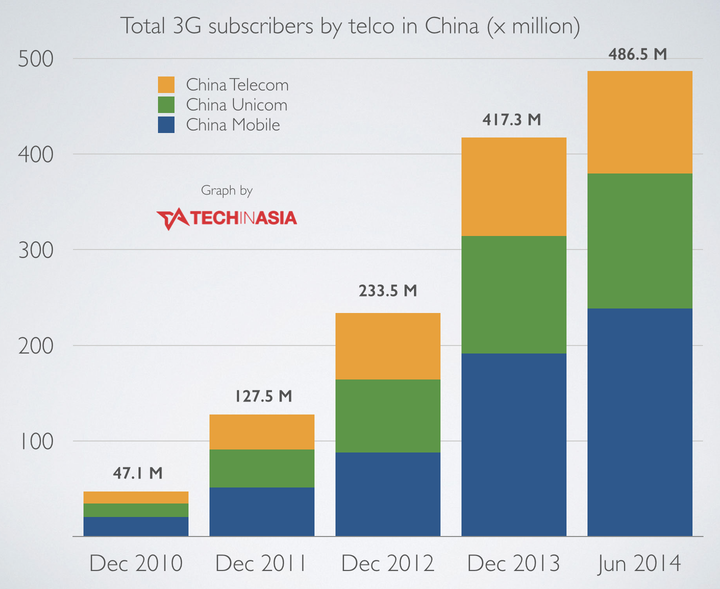 See: 351 million new smartphones shipped in China in 2013
An unfair 4G advantage for China Mobile
Of the three telcos – China Mobile, China Unicom, and China Telecom – only China Mobile is providing monthly 4G numbers in the same way they all do for 3G. China Mobile is dominating 4G so far thanks to the unfair head-start it has been given to ensure that TD-LTE beats FDD-LTE in the nation. China Mobile has 13.93 million 4G subscribers in its numbers for June.
With China Unicom and China Telecom not yet permitted to start their FDD-LTE networks, the two smaller companies are stuck at the stage of performing 16 city-wide trials for their preferred 4G standards. In the meantime they're also building up TD-LTE networks – just as China Mobile did first – in what looks to be a costly and (for consumers) confusing dual LTE strategy.
China's Ministry of Industry and Information Technology (MIIT) is hoping to see up to 50 million 4G subscribers by the end of the year. Despite China's ongoing smartphone boom, even that modest target might be missed due to the fragmented 4G roll-out.