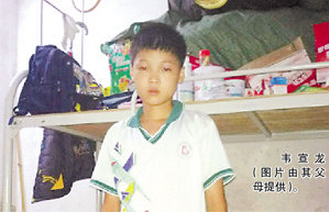 In early January, when 12-year-old Wei Xuanlong (pictured) finished his last test of the semester, he didn't go home. Instead, according to the Guangzhou Daily, he went straight to the local internet cafe to play games. What happened to him after then isn't entirely clear. A classmate says that he saw Wei outside the school gate the next day asking a sixth-grader for money to buy some food. Two days after that, the proprietor of a local internet cafe says he was still in there playing games. But that was the last time anyone saw Wei. As of early February, the boy was still missing, and his parents had been searching for him for nearly a month with no luck whatsoever.
Last week I wrote about why child-only internet cafes might be a good idea for China, but I forgot to include one important reason: children in internet cafes make easy targets for predators.
No one knows what happened to Wei, but kidnappers and predators looking for children his age have often found internet cafes to be the perfect stalking ground. It makes a lot of sense; kids in net cafes are unsupervised and often they also want money for food or games, which can make them easy to lure away in the hopes of making a quick buck or getting in a free meal with a "friendly" stranger.
What happens next can be horrific.
An excellent Danwei piece on serial killers in China details the predatory habits of China's most gruesome killers, and many of those that target children seem to have made use of internet cafes. Huang Yong, a former PLA soldier, stalked internet cafes in Pingyu city, and lured at least 17 teenage boys away before raping and murdering them. Gong Runbo, a convicted rapist, picked up and murdered at least 6 children from internet cafes in Heilongjiang province, and evidence suggests the death toll may have been higher:
Over 10 pairs of children's shoes were allegedly later found in Gong's abode but police say there was only evidence enough to charge him with six deaths.
Of course, both men were subsequently convicted and executed, and there's no evidence to suggest that Wei Xuanlong has been murdered — it's also possible he was kidnapped and trafficked, for example, or that he has simply run away — but as he's been missing for a month now, the chances of his safe return seem increasingly unlikely. Wei's case is just the latest in a long line of evidence underpinning the assertion that China's internet cafes are simply not a safe place for children.
The government has attempted to prevent minors from entering internet cafes, but this ban has been ineffectual and poorly enforced. Moreover, without giving them an alternative way to access computers and the web, banning minors from internet cafes puts them at a disadvantage compared to wealthier children who may have access to computers at home. Chinese kids need somewhere to go where they can play games and learn to use computers in an environment that's healthy and safe. Child-only internet cafes or open facilities on school campuses would seem to be a decent start, but I've done enough speculating on this topic so I'll put the question to you: how can China ensure that kids have access to computers at the web while keeping them safe from the health risks and predators that are sometimes found in regular internet cafes?