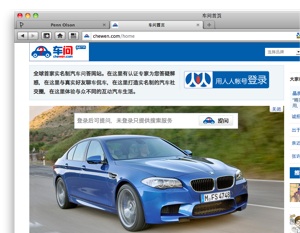 CheWen.com is the Renren Inc. (NYSE:RENN) owned, car-oriented social network that's a mix of Quora, microblogging, and automotive news. And it's doing pretty well – the GM of CheWen, Xiu Yu, has told the media that the site has now revved up to four million users, a mere six months after its launch.
The social network for car fanatics is separate from Renren.com, but makes use of the latter's third-party login. It doesn't integrate with its rivals, Sina (NASDAQ:SINA) or Tencent (HKG:0700) Weibo, but it does allow sharing of pages with other social media. CheWen, though, is a clever spin-off from the parent company – one that looks ahead to keep hold of some of the wealthiest netizens who would be valuable to advertisers. But, at the moment, CheWen is refreshingly free from ads (or, rather, they're minimal and unobtrusive). The website has been active in promoting itself, attending the biggest car shows in China this year.
CheWen has microblog elements, such as its allowing users to follow each other and automotive brands as well, and to retweet what others have said; it incorporates the ask-an-exert aspect of Quora too, with all that crowd-sourced knowledge and banter searchable; plus, it picks up some car news from around the web.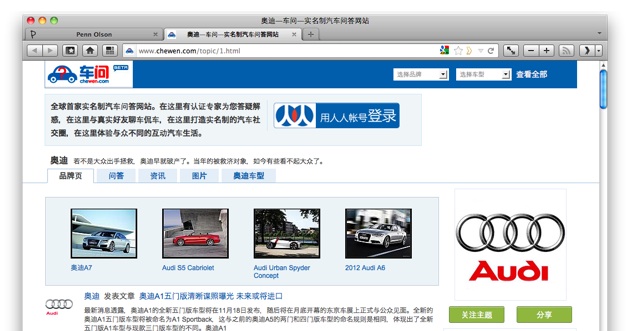 At the moment, Audi (ETR:NSU) is the top brand (pictured above) in terms of followers, with nearly half a million fans out of CheWen's four million user-base. With that German automaker being the biggest-selling luxury car brand in China right now, that's not too much of a surprise.
Renren has other sites as part of its empire. It also owns Nuomi, the group-buy site that's doing well in Taiwan – although the last time we looked at it, Nuomi was actually losing money overall, along with pretty much every other daily deals site.
[Source: DoNews – article in Chinese]