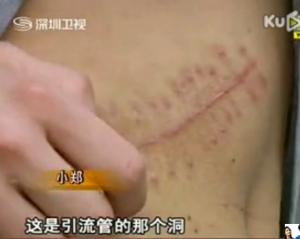 There's some follow-up information coming from Chinese news agency Xinhua regarding the sad story from last spring about a 17-year-old boy in China who sold his kidney to buy an iPad 2. Five individuals in Chenzhou city, Hunan, have been arrested and charged with intentional injury.
The Xinhua report outlines the players:
Defendant He Wei, who was penniless and frustrated over gambling debts, sought to make enormous earnings through illegal kidney trading, according to the agency. He asked Yin Shen to look for donors through online chat rooms and Tang Shimin to lease an operating room from Su Kaizong, the contractor of a local hospital's urology department, it stated. Song Zhongyu, a surgeon from a provincial hospital in Yunnan province, conducted the kidney transplant.
According to the report, the first individual, Mr. He, gave the boy 22,000 RMB (about $3,500) of the 220,000 yuan (about $35,000) that he was paid, and he made payments to the others involved as well.
Unfortunately the boy, surnamed Wang, is still apparently having health problems, and his situation is getting worse.
Over the years China has made efforts to clean up its organ trade in the past, including obtaining them from executed prisoners, which has been a major source. You can read more about that here on Wikipedia.