There is nothing like home-cooked food. For some reason, meals that are prepared at home can easily rival the finest restaurants around – bonus points if they were cooked by a loved one.
Natalie Long, co-founder of Singapore-based meal delivery service Chef Box, particularly enjoys cooking with friends. In fact, she and her current co-founder Max Tiong are part of a group of friends who regularly meet up on weekends to replicate interesting recipes that they chanced upon. "We love the experience of cooking together, and food always seems to taste that much better when it's home-cooked," she explains.
However, the group constantly found themselves running into a huge problem in the form of never-ending work commitments:
As busy professionals ourselves, we understand how it is when we want to cook something but work kicks in, throwing everything out the window – there'd be no time to dig around for recipes to cook, much less to be hunting for ingredients. And when we do get to cook, we only use a portion of what we bought. So there's always the problem of what to do with the remaining ingredients since we don't have the time to cook everyday.
Needless to say, they're not the only ones in Singapore who face this issue. A survey conducted by Robert Half in 2012 found that a whopping 98 percent of Singapore employees work overtime. To put it in Singlish, where got time to cook food?
Long and Tiong decided to do something about it. "We were talking about this one day, and realised that we can help solve this problem for Singaporeans like us. That's how we came up with Chef Box," Long recalls.
A DIY model

Meal delivery startups are all the rage around the world today. Many of them focus on providing maximum convenience by sending the entire meal to their customers, all cooked and ready to be consumed. Chef Box takes a different route, one that has been adopted by the US-based Blue Apron and Germany-based Hello Fresh, both of which were recently funded to the tune of US$50 million apiece – they send their customers the ingredients and a recipe instead.
The reason for this: they want to retain the cooking experience, and make it fun and easy to learn. "We don't think of the Chef Box model as a better Foodpanda or McDelivery, since we provide a different offering," Long says. "We primarily cater to those who are looking for healthier meals, and want to learn how to cook without the extra hassle."
The duo also painstakingly ensure that the recipes are designed to promote a healthier diet. "The alternatives to cooking at home these days include eating out and food delivery, which are expensive and unhealthy depending on what you order. When we are busy, we start choosing unhealthy options more often than we should," she explains.
The act of cooking places the decision-making process back into the hands of the customer, who can then choose to make a healthier choice – less oil and salt, hopefully. Long adds: "By making it a lot easier for people to choose home-cooked food over take-outs and fast food delivery, we hope to help Singaporeans eat better."
From finding and figuring out interesting new recipes, to purchasing, pre-measuring and delivering all the necessary ingredients, the team does all the legwork. The website currently offers six recipes, which may seem rather limited to some customers. However, Long emphasizes that the recipes change often.
"We curate our menu and refresh it weekly so we can offer our customers healthy and hearty recipes that are quick and easy to prepare," she says. And certainly so that customers won't quickly get bored of the offerings.
I must admit that the recipes on offer were quite tantalizing to me, so much so that I decided to try out the service for myself. Being a lover of Thai food, I picked the Pad Thai Noodles with Cilantro and Shrimps. So far, so delicious.
Here I ran into my first problem. I wanted to order this meal for lunch, but there was only one delivery time available, and that was for dinner: the 6 to 7.30 pm slot. To make matters worse, the next slot was for the following week – orders can only be made a week in advance. Long later explains that this is by design, to help the team plan their shopping list in advance: customers can make their orders from Wednesday to the following Monday, and orders are then delivered on Wednesday, Thursday, and Friday.
She adds that they are considering expanding time slots for delivery in the near future:
We want to cater for those who are cooking on the day itself, and those collecting the box earlier to cook later in the week. We're also currently considering potential next day deliveries which will expand our delivery dates tremendously.
Having no choice in the meantime, I resigned myself to takeaways for the coming week, and selected it.
I received a confirmation email from the team about 14 minutes later, and the second problem came – they only accept PayPal for payment: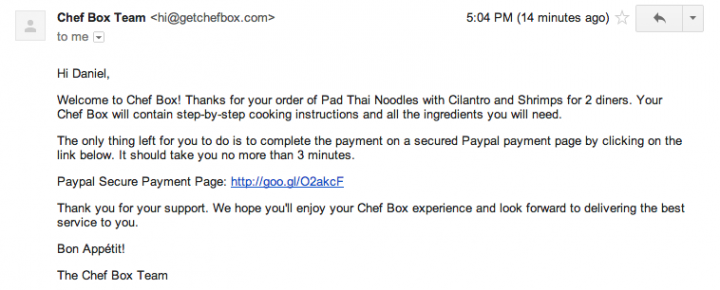 After a few failed attempts at using my PayPal account, I fired off an email to the team, hoping for other options. Thankfully, my journey didn't end there. The team was gracious enough to offer cash on delivery or bank transfer. I picked cash on delivery, and the wait began.
The reason why the team uses PayPal, according to Long, is that it allows them to cater to both existing and non-PayPal customers. Paypal's infrastructure also provides the option for recurring billing, which will be useful if they move to a subscription model in future.
I was informed a day before that the box would arrive at 6.50 pm, and lo and behold, Tiong himself knocked on my door at around 7 pm sharp. Happily, it was because he had been performing another delivery directly before – business seems good.
Without further ado, I opened up the package and was greeted by a recipe and rows of neatly arranged ingredients:
Now the fun part begins! I pride myself on being able to grill a good steak, but Thai food remains out of my expertise. Nonetheless, the recipe had me well covered with detailed step-by-step instructions:
It took me a good 45 minutes or so to cook a meal for two – time that most young Singaporeans would rather spend lazing in front of the TV or laptop. Still, I was rather proud of the end result:
All in all, a fun experience. The question that remains is whether Singaporeans have the time and patience to do this on a regular basis.
Reducing wastage
One of the main reasons why Singaporeans opt not to cook their own meals – other than sheer laziness – is due to leftover ingredients being wasted. Since most people do not know when they would actually have the time and opportunity to fire up the stove, only a portion of ingredients bought are actually used, leaving the remainder rotting in the fridge at the end of the week.
Chef Box solves this problem by pre-measuring the ingredients required for the customer to cook a particular meal. As shown above, the recipe box also contains a cooking instruction card with details on how to cook the meal. In this way, no wastage is caused.
By purchasing bulk groceries at lower prices and providing customers with only what they need, this method also allows the team to earn a healthy margin given sufficient scale. "As more people choose to take part in the Chef Box experience, it becomes more cost-effective for us as it increases negotiation leverage with our suppliers," Long says. "We've been making a profit since we began, and look forward to lowering our costs as demand increases."
Thus far, the meal service is in its fourth week of operation, and has served around 20 customers – most of which love the experience:
Our customers have told us they love what we do, and that we helped make their cooking experience better. Some have even mentioned that they wouldn't have thought about trying some of the recipes on our menu if it wasn't for our service.
In line with their vision to make the cooking experience more meaningful, Tiong says that they are currently in talks with charity organisations to kickstart their You Cook, We Give program, where the team will donate a meal to someone less fortunate for every box ordered.
"We started this service with the intention to make cooking at home not only fun and simple, but also meaningful for us and our customers," he adds. "Being able to give back to the community is a big motivation for us."
The team is currently focusing on growing its reach in Singapore, and operations are completely bootstrapped at the moment. They plan to raise funding in the near future, but only after fully streamlining their delivery, recipe selection, and supplier negotiation processes. Says Long:
We believe that investors will look at our business from a margin perspective. Being able to build up these processes effectively increases our chances for funding, and also helps us de-risk the business model step-by-step. We follow the lean startup philosophy very closely, and each strategy we undertake is aimed at de-risking the business and building potential investor trust before we talk to investors.
To be sure, Chef Box's service would be incredibly helpful for customers in larger countries, such as India, where the grocery store and food outlets are inconvenient to get to and congested traffic discourage travel. In Singapore, this might be more of a luxury than a necessity. Nevertheless, being a country that loves its food, the island-nation is as good a place as any to test the waters.
Long also assures me that they are considering expansion into other metropolitan cities in the region such as Sydney, Melbourne and Hong Kong.
"However, as we are still a budding company, we are currently focused on improving our processes, better understanding what our customers want, and how to effectively reduce costs," she adds. And what better place to do that than in the foodie nation of Singapore?
Chef Box is just one of the many meal delivery startups that have recently sprouted up in Singapore. Check out our review of Grain, a startup which delivers on-demand, ready-to-eat dishes to a taxi stand near to you.
(Image credit: Flickr user Sean Marc Lee)